Husky air compressors are one of the most reliable compressors presented in the market of Canada and the United States.
This page will provide you with as much relevant information as possible, where you can seek help, download manuals and navigate existing problems and solutions available on this site.
Table of Contents
Husky Compressors Information
If you wander around a Home Depot big box store, along with a host of other air compressors – since Husky compressors are not the only compressor they sell – you will find the brand Husky Air compressors which is the Home Depot own house brand of compressor.
Home Depot does not manufacture the products they sell. The products they sell, including their Husky Air Compressors, are manufactured for them. As I understand it, the current manufacturer of Husky Air Compressors is Campbell Hausfeld (circa 2013-2014).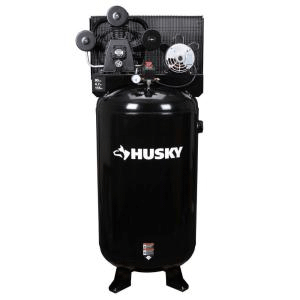 Husky Pro Air Compressor
You may come across Husky Pro air compressors in your searches or you might know somebody who has one if you don't yourself, and wonder what makes them different from Husky air compressors? Home Depot does not list any Husky Pro compressors on their website, and I've scoured the internet to find an answer to this question, but there's little to no information available on the matter.
Maybe the pro range was a series of attempted rebranding by Husky with the red color compressor instead of black? Or a compressor of a certain size and engine power? From the examples I can see, the Husky pro compressors have a relatively big tank size and look to be stationary air compressors.
Correct me if I'm wrong! If you have any information to clarify this matter, please leave a comment at the bottom of the page, so I can update the article and help others understand the differences – if there are any!
Husky Air Compressor Parts
If you need parts for your Husky compressor, and since Husky is the Home Depot house brand, ask at the store where you purchased the air compressor what company fixes their air compressors under warranty.
Assuming they actually have a service outfit repair compressors under warranty rather than just throwing them out and replacing them, the repair depot would be a good source for advice and perhaps even parts for different models of Husky air compressors, since it is unlikely that anyone working the floor at Home Depot would have any idea where to get parts for the air compressors they sell.
One visitor, Robert W., offered the following as it pertains to Husky air compressors valve plate kits:
"During my quest (often frustrating), to find a Valve Plate kit for my Husky compressor, I found the following to eventually lead me to a knowledgeable place from which to order. Turns out Campbell Hausfeld is the original mfr of the Husky line for Home Depot. Their website is chpower.com Their toll free number is 1-800-543-6400. I got help immediately and ordered the valve plate kit $29 plus shipping. This was for my Husky model WL651003AJ. Excited to finally get my parts coming this way.
What a journey (it was). Thought I could save some of your website viewers some extra trouble. Don't bother with the Husky toll free number you have listed. They weren't very much help except to give me the CH phone number. Then it was smooth from there."
If you choose to go "up the ladder" for support, please have your model number and serial number handy when contacting Campbell Hausfeld directly. Though, I do not know how much support you will get there! Visit their website here for contact details.
Husky Air Compressor Parts Available on Amazon
Some Husky parts are readily available on Amazon. The first is a Husky Pressure Switch 4 ports replacement below! This is a special design with a 90-degree angle Unloader, so please make sure that the unloader position matches your old pressure switch.
Prices pulled from the Amazon Product Advertising API on:
Product prices and availability are accurate as of the date/time indicated and are subject to change. Any price and availability information displayed on [relevant Amazon Site(s), as applicable] at the time of purchase will apply to the purchase of this product.
Also available is a Husky air compressor 13 piece kit. The kit provides a variety of useful corrosion-free connections and contains almost everything you would need with a new air compressor.
Prices pulled from the Amazon Product Advertising API on:
Product prices and availability are accurate as of the date/time indicated and are subject to change. Any price and availability information displayed on [relevant Amazon Site(s), as applicable] at the time of purchase will apply to the purchase of this product.
Husky Compressor Manuals
Here are some Husky manuals that kind folks have emailed in so I can provide them here for you. Click the link to download a manual to your computer. Don't forget to save it so you have it for future use.
Existing Husky Air Compressors Questions
Husky 33 Gallon Wiring Issue
Our thanks to Will I am for contributing the following video about his 33 gallon Husky, model 516051.
Have an issue with your Husky air compressor? Please have a look at the existing questions below!
If you have any advice or information to add to an existing question, please add a comment to that existing post. Then all Husky air compressor owners can benefit from your experience!
Husky 20 gallon not working properly
Husky air compressor won't build past 40-60 PSI
Husky air compressors not building air pressure properly
Husky compressor reaches 50 PSI and shuts down
Husky air compressor will not shut off
Unscrew top on a Husky 1506F compressor
Adding an extra tank to a Husky air compressor
Husky TA-2530B air compressor won't build up past 40 psi
Husky 3 gallon compressor keeps blowing fuses
Husky 106F stopped building pressure
Husky just reaches 155 PSI and the PRV lets go
Husky H1503TP will not maintain pressure
What oil for this Husky compressor
Husky blowing oil out of oil fill cap
Husky Air Scout won't build past 80 PSI
Husky 33-gallon regulator leaks
Husky shuts down right after starting
Husky compressor surging then tripping breaker
Husky 4 gallon compressor stalling out
Husky compressor won't stay running
Adjust Husky compressor back to factory settings
Adjust pressure for Husky C6020H compressor
Air leaking from Husky compressors
Husky compressor has 220 volts on the switch
Air forced out of PRV on Husky compressor
Where is a serial number on Husky compressor
Husky 30-gallon lay-down style compressor won't restart
Husky compressor will only build 10 PSI of air
Husky Pro Air compressor motor won't start
---
If you have any questions about Husky compressors then please leave a comment below with photos if applicable to help others respond to you!