Rolair air compressors are manufactured in Wisconsin, USA. Their air compressor product range includes portable (hand carry) compressors powered by electric and gasoline motors.
Their compressor range also includes wheelbarrow type compressors, both electric and gas powered.
Rolair's larger stationary type air compressors range up to 20 HP in electric and gasoline motors, with tank sizes up to 120 gallons.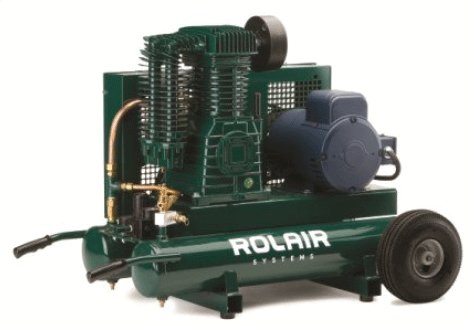 I particularly like the reams of information that they have about the Rolair compressors on their website. Need a manual? If you have the model number, it's there for the downloading, along with schematics and other info. Nice job that.
Rolair Air Compressors
606 South Lake Street
Hustisford, WI 53034-0346
T: 920.349.3281
W: www.rolair.net
If you are having a problem with your Rolair air compressors do try to contact them first.
This page is for Rolair compressor owners and users.
Feel free to use the form below to ask a question, but only about Rolair air compressors on this page please.
If you have a Rolair air compressor and you have some experience that can help another user that has posted below, please add your advice to that post.
We all benefit from your experience then.
Thanks much,
Bill
---
Existing Rolair Air Compressor  posts:
---
New comment? New question? Please add it here along with photos to help others help you with your compressor and equipment problem!