Hey! This site is reader-supported and we earn commissions if you purchase products from retailers after clicking on a link from our site.
Bambi Air Compressors Ltd build air compressors, among other diverse equipment, in the UK, and have been in business since 1977.
They manufacture silent running air compressors, oil free compressors, and have a line of dental air compressors as well.
Bambi Air Compressors Contact Info
Bambi Air Compressors Ltd
152 Thimble Mill Lane
Heartlands
Birmingham B7 5HT
United Kingdom
Tel: +44 (0)121 322 2299
Fax: +44 (0)121 322 2297
Web: www.bambi-air.co.uk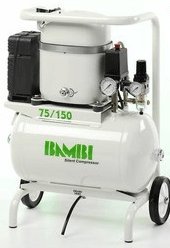 The Bambi air compressors page on this website is offered to allow the sharing of user experiences and issues relating to the Bambi line of air compressors when the user has been unable to get help from Bambi or elsewhere.
How to change the oil in a Bambi air compressor
This questions comes up quite frequently. So I contacted Bambi on your behalf, and they said:
"Hi,  Yes correct remove the sight glass and tilt the unit forward (to drain the oil)
Regards, Graham
Bambi Air Compressors Ltd"
As to filling the Bambi compressor oil
I found the linked video on You Tube. It is rudimentary, yet shows the oil top up and the tank draining.
It wasn't clear, I thought, but the compressor needs to be OFF when the oil is being filled if it was not in the video.
Link:  https://youtu.be/CrEbDgoEVdA
Bambi Air Compressor Manuals
Click the link to download any manuals listed to your computer. Save the download so you have it for future reference.
For other Bambi air compressor manuals, visit their site (www.bambi-air.co.uk), and follow the downloads link.
Before posting your question at the end of this page, please take a few minutes to read the posts below as well as pages linked from the troubleshooting page, as those pages cover a variety of common compressor issues that affect many brands of compressors, including Bambi air compressors.
If you see a question on this Bambi air compressors forum that you can help with, please do add a comment. Your help is welcome and appreciated.
Thanks,
Bill
Here are more pages on this site with questions, answers and information about Bambi air compressors: