In what might make them an oddity in the North American compressor supply business, Saylor-Beall air compressors are manufactured in the USA. Saylor Beall manufactures two-stage reciprocating air compressors and also manufacture rotary-screw air compressors right here in North America.
Support is available directly from them and visitors can download the Saylor-Beall air compressors manuals directly from their website. Follow the Documents link on the navigation bar on their site.
Saylor-Beall Manufacturing Company
P.O. Box 40, 400 N. Kibbee Street,
St. Johns, MI 48879
W: http://www.saylor-beall.com/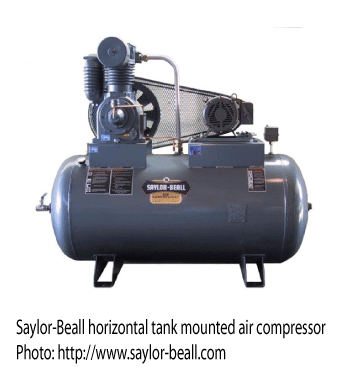 This page is for all things relating to Saylor-Beall Compressors with issues and comments about Saylor-Beall air compressors posted by folks that use this brand of air compressor, have had problems with them, and some of who have fixed problems with Saylor-Beall air compressors and shared that information for us all.
If you have a question of your own about Saylor-Beall compressors please use the form below. Provide as much information about your air compressor condition as you can to make it easier for us and others to help.
If you can help regarding any of the questions below, please add a comment to that question by clicking the comment link to add information to that post.
Manuals for Saylor Beall air compressors can be had right here.
I thank you.
Bill
---
Some existing Saylor-Beall questions: