Hey! This site is reader-supported and we earn commissions if you purchase products from retailers after clicking on a link from our site.
Having an issue with identifying an older air compressor? Air compressors have been around in one form or another since the dark ages. If you need help in identifying an older air compressor in order to try to source parts, find a compressor manual, or just get some online guidance on proper use and so on, this is the page to do it!
This page will also provide an opportunity for readers to post photos of their old air compressors so that someone can help identify them!
Table of Contents
How to Identify an Older Air Compressor
Air compressors support various types of tools, which are ultimately spared the strain of running off separate motors. With older compressors, the appeal may center on the rarity of an old machine, or even the novelty in having an outdated piece of machinery that is still operable.
Most air compressors should have a nameplate like the one in the image below. If it does, you should read it as it will have all the information you need!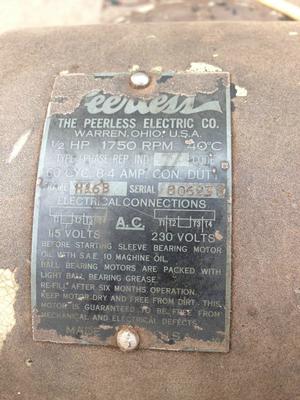 If your compressor doesn't have a nameplate, then you should search for distinguishable markings on the tank or the pump like brand names or model numbers.
Identifying an older air compressor can be done with the 4 following steps:
Check backside of the tank to see if there's a stamp that lists the year that the compressor was produced along with the manufacturer. If only the manufacturer name is present, do a google search of the brand compressors

Look along all sides of the air compressor for a patent number, which is often listed near the name of the manufacturer on most older compressors

Go to google patens and run a search on the patent number (if you find it), this will provide you with basic information on the model including the manufacturer and issue date

Upload images of the air compressor to a forum like this page where other compressor connoisseurs are likely to recognize the model

Help Identifying an Old Air Compressor
To make it easier for your compressor to be identified, please add at least two photos, preferably four photos, one photo from each side. More photos of an older air compressor almost always leads to faster help.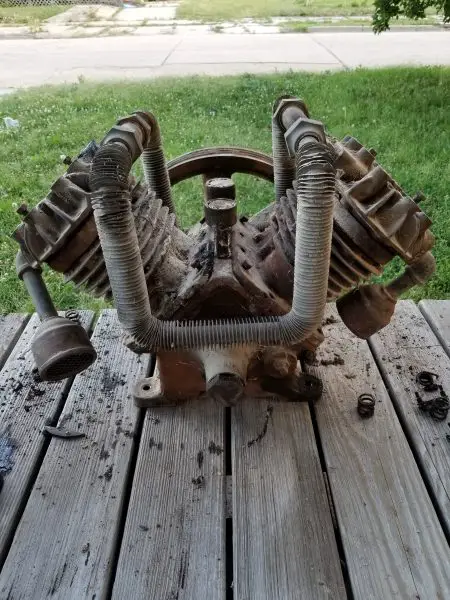 No photo? Sorry, your posting cannot be approved for this page.
It's very difficult to identify an older compressor, particularly one without identifying numbers, so in order to get your post approved for this site, at least one, and preferably more, photos must be added to your comment. Please click the "paper clip" icon when you've posted the words, and add the photos before you submit. Thanks.
Below there are a number of existing compressor identification requests already posted. As you scroll down the page to the new-question form at the bottom, please have a look at some of them. If you can help identifying another owners compressor it would sure be appreciated by all.
Existing Identifying an Old Air Compressor Pages
Old compressor by Ben Patents Ltd.
Please help identify this Rand 4000
Help identifying old green compressor
Help identifying old compressor pump for parts
Model and name for this compressor
Any idea who made this compressor pump
Identify Lux compressor for information
Info on a 1978 Sears-DeVilbiss-Doerr air compressor
Year of this unknown air compressor
Unidentified Kellogg America break shoe compressor
Vintage DeVilbiss air compressor
Patent number 4065237 that's all
Info on this vintage air compressor
Identify this 1940's air compressor
Want to rebuild this compressor but cannot identify it
What oil for old Jacuzzi air compressor
Need assistance to rebuild this old compressor
Please look at this compressor – I have a few questions
What compressor do I have here
Information needed on this 1953 air compressor
Is this a Kelvinator compressor with a riveted air tank
Help with size and RPM of motor for this compressor
---
If you need help identifying an old air compressor then please leave a comment below with a photo so that someone can help you!