by Walt
(Colorado)
Looking for anything I could find on this vintage air compressor please.
I received this older compressor and was looking for anything I could find on it.
A manufacturer, model, re-build kit, old manual, anything I can get really.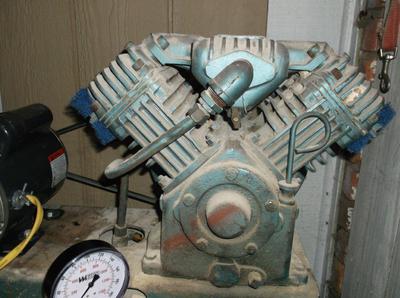 It seems to work well, it's just for tires around the house.
It fills the tank, slowly. I replaced the, heat damaged I believe, one way valve, which helped. The old one was stuck and would flow air both ways.
The line feeding the tank does gets pretty hot, although I haven't measured it.
________________________________
Looks like an old Champion pump.
by: Anonymous
Looks like an old Champion pump. Color and shape of crankcase along with fine pitch cooling fins are the clues.
_________________________________
Have one like it
by: Seth
I have one like it but it's a three cylinder. No name or model number. It's at a machine shop now getting bearings out.
Need help finding the smaller of the three piston and rod.
Thanks