When searching for parts information for Task Force compressors, I kept getting directed to: www.searspartsdirect.com . Go to this site, and input your compressor model number. You might get lucky and find the information you are seeking! On the other hand, if you don't, this is the page for Task Force Air Compressors with information from owners and users, providing varied information and a place to ask questions.
As it relates to parts for Task Force air compressors, visitor Krys says that " re: Task Force air compressor… I just ordered some parts from MAT Holding (Industries) 800-628-8815 ext 1 then ext 2. You might find this helpful."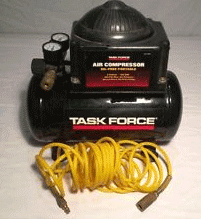 I checked the number, and it was for Powermate power equipment. I do not know their relationship to Task Force compressors is but if Krys was helped there, maybe you will be too.
If you have a problem with your Task Force compressor you can add a question about it at the end of this page.
If you have resolved any Task Force compressor issues yourself, please feel free to comment on other folk's posting. We all would appreciate it.
Thank you for the questions and for all of those folks that contribute by commenting on a visitor's question about Task Force air compressors!
Bill
---
Existing Task Force Compressor postings: