This page will provide you with as much relevant information as possible about Kobalt air compressors, where you can seek help, download manuals, and navigate existing problems and solutions available on this site.
Table of Contents
Kobalt Information
Wander around the Lowes chain of big box stores, and along with many other types of air compressors, you will find a selection of Kobalt Air compressors. Kobalt is the Lowes store's own brand of air compressors.
There is some information available online which suggests that the Kobalt air compressor is made for Lowes by Sanborn compressors. If in your search for Kobalt compressors information you come across Sanborn parts information for your model of Kobalt air compressor, those parts likely are interchangeable.
Lowe's has grown from one small-town hardware store in North Carolina to one of the largest home improvement retailers in the world. Then and now, they're committed to helping homeowners, renters and Pros improve their homes and businesses.
Lowe's strives to provide customers with everything you need to get the job done – from home maintenance and repairs to remodeling and decorating. We have an extensive selection of products from national brands, as well as private brands shoppers can only find at Lowe's.
The Kobalt promise is to give you the power to complete any task. Kobalt power tools and outdoor power equipment offer the speed and precision to get those demanding projects done right.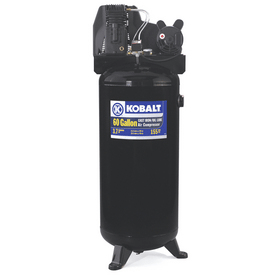 Kobalt Contact Information
In all, Lowe's has more than nine Store Support Centers which include our U.S. and Canada headquarters located in Mooresville, N.C., and Boucherville, Quebec respectively.
The best way to contact Kobalt is to visit the contact us section of Lowe's website and fill out the form. If you'd prefer, you can follow the link to their support page to chat with them online or you can use the following phone numbers:
Sales: 1-877-465-6837
Repairs, warranties & protection plans: 1-888-775-6937
Customer care: 1-800-445-6937
Pro service desk: 1-844-569-4776
Kobalt Air Compressor Manuals
The following is a link to a .pdf of a Kobalt manual for your complimentary download:
If you have any digital manuals or information about Kobalt air compressors, please use the form at the end of this page to upload them to share with others. We all thank you. Otherwise, if you search your compressor on Lowe's website or locate it on the Kobalt air compressor page here you can view and download the owner's manual.
Kobalt Air Compressor Parts
For parts or services for your Kobalt air compressors visit this site:
https://www.lowes.com/b/kobalt
You might check with the local Lowes store and ask where they would send any of their Kobalt air compressors for warranty repair if they do not simply replace failed compressors and toss out the broken ones. That repair depot could be a good source for parts and advice about your Kobalt compressor.
Kobalt Air Compressors Available Online
Given that Kobalt air compressors are manufactured in-house by lower's, the best place to buy them is directly from Lowe's. Otherwise, you can pick up their small portable air compressor inflator tire pumps directly on Amazon!
Prices pulled from the Amazon Product Advertising API on:
Product prices and availability are accurate as of the date/time indicated and are subject to change. Any price and availability information displayed on [relevant Amazon Site(s), as applicable] at the time of purchase will apply to the purchase of this product.
Kobalt Air Compressor YouTube Reviews
I have picked out a couple of useful YouTube review videos on Kobalt air compressors to give you a better understanding of these compressors from a like-minded compressed air user like yourself!
Kobalt Air Compressor Troubleshooting, Problems & Fixes
Have an issue with your Kobalt air compressor? Please have a look through the existing questions and answers as you scroll to the submission form at the end of this page. Many questions users have about Kobalt air compressors have already been answered!
After reading and reviewing the genera air compressor troubleshooting page (which offers solutions to many common air compressor problems) if you cannot find your answer, then please post a question.
To help others that might be having the same type of problem with their Kobalt Air Compressors as you may be having, please add your comments to any existing post using the comments link. If you have a digital format of a Kobalt air compressor manual to share, please contact me via the contact page!
If We all thank you for sharing your Kobalt air compressor knowledge.
Kobalt 99007 / VLK1582609 Piston Seal Repair
I want to thank Anthony Shelton for posting, and providing, the following excellent video about repairing a leaking piston seal for a Kobalt air compressor 99007 or VLK1582609.
Existing Kobalt air compressors questions and answers:
Duty cycle of a Kobalt compressor model # 0300841
Tool pressure regulator knob stripped on model 0300841
Kobalt compressor will not turn on
17 Gallon Kobalt keeps shutting off
Kobalt 22 gallon compressor will not stay running
Serial number on Kobalt air compressor
Kobalt troubleshooting questions
Adjust pressure setting of Kobalt air compressor
Kobalt 232177 won't build pressure
Kobalt Digitech regulator not working
Kobalt dual power inflator not working
Kobalt 0332041 won't build enough pressure
Replace piston ring on Kobalt VLK158209 compressor
Kobalt 26 gallon oil free won't start
Kobalt 2211495 keeps tripping off
Kobalt compressor won't power off
Multiple issues with with a Kobalt F226VWLVP compressor
---
If you have any questions about Kobalt compressors then please leave a comment below, with photos if applicable, so that someone can help you!