On this page visitors have added a bunch of Kobalt air compressor troubleshooting questions. You can see the questions and the responses below.
If your Kobalt needs some work, you can post a question at the end of the page to ask for some help.
---
Compressor builds pressure but trips reset button on motor.
by Brad Beal
(Lafayette, Louisiana)
I have a 60 gallon Kobalt compressor about 4 years old. It will build pressure as it is suppose to but when it goes to shut off it starts shattering then shuts off.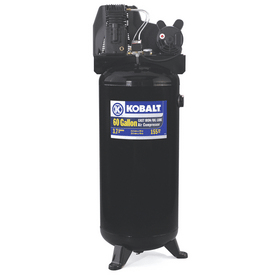 Once the pressure has dropped it will not start automatically,
I have to push the reset button on the motor and it starts. Does this every time. Ive checked the wiring and connections and everything looks ok. I have it wired to a 30 amp 220 volt breaker.
Any idea what may be causing this.
---
Bill:
Brad, the shattering you refer to, is this sound coming from the pressure switch? If so, your pressure switch points may be worn out and it's time for a new one of those.
As to having to push the reset to start the air compressor, that suggests that the motor is overly warm, assuming the reset you refer to is on the motor.
Why is the motor overly warm, if that's the case? One thing is that your air compressor is taking longer to fill to cut out pressure than it used to, the motor is running longer as a result, and that's overheating it a bit.
More likely though, the issue may be capacitor related. A weak or failing run cap would mean that the motor is running under powered, and that leads to overheating.
So, check the pressure switch, and see the page on this site about how to check a capacitor.
Or is the whole air compressor shuddering, as in shaking a bunch? I'm not quite sure what you mean by shattering.
Maybe you can pop back here and add a comment with more info?
---
Kobalt compressor won't shut off
doesn't shut off when requested psi is reached
---
Bill:
Does it continue running until the PRV pops open, or does it stop automatically at a higher than expected point?
If it does stop automatically, but at a higher pressure than expected, does it stop at the same pressure point every time?
If it runs until the PRV pops open, don't use it again until you replace the pressure switch, and the problem is gone.
If it's stopping consistently at a higher pressure than expected, that might indicate nothing more than an air gauge that's failing, or it might mean that the pressure switch is failing, or both.
Maybe let us know by posting a comment here?
---
I have a Kobalt 60 gal air compressor and motor doesn't turn?
by jesse
(owatonna mn. usa)
i just buy a kobalt 60 gal. i have power to the motor but doesn't turn on any advice?
---
Bill:
Hi Jesse.
If you have power to the motor, then the pressure switch has tripped to on and power is flowing through the pressure switch to the motor. Is this correct?
Is the power supply to the compressor the right voltage? Often a 60 gallon tank compressor will be powered by a 5 HP motor or more, and if so, it needs a 220 VAC power supply.
If the power supply to the compressor motor is the right voltage, and the power is getting to the motor for sure, and nothing is happening as to the motor starting, then I'd look to testing the start capacitor next on the motor next. Please see the page linked from the troubleshooting page on this site about testing capacitors.
Please let us know what your findings are.
Bill
---
New comment? New question? Please add it here along with photos to help others help you with your compressor and equipment problem!