This article will serve as a hub for all Kobalt air compressor not building pressure, related issues. It's a very common problem for Kobalt air compressor will not build pressure, and so, this article will present the reasons why this occurs, along with current reader questions and answers.
Table of Contents
Reasons Kobalt Air Compressor Won't Build Pressure
The most likely reasons why your Kobalt air compressor won't build pressure are:
Failing intake valve
Failing pump pressure valve
Gasket failure
Piston seal failure
Compromised tank check valve
Here are some clues on how to look out for these possible reasons:
Kobalt Air Compressor Intake Valve Failing
If the intake valve has failed then the compressor will draw air in on one cycle, and then the air will blow right back out of the intake valve.
Kobalt Air Compressor Pump Pressure Valve Failing
In this case, air will flow into the tank through the pressure valve on the compression stroke but then be drawn right back out of the tank as the piston cycle to try and draw more air in through the intake valve.
Kobalt Air Compressor Gasket Failure
The flow path of the intake air inside the pump head is often only separated from the flow path of the pressurized air to the tank by a gasket. It is possible that your compressor is working fine, but as it is cycling, the air is flowing back and forth across a failed gasket inside the pump instead of being forced into the tank.
Kobalt Air Compressor Piston Seal Failure
The pumps will lose pressure and compression strength if the piston rings are defective. This can also reduce the pump's efficiency to optimize the production of compressed air.
Kobalt Air Compressor Tank Check Valve is Compromised
The discharge head of the pump will receive a high pressure of air if the tank check valve becomes defective. It will affect the pump's motor might and stop it from restarting anytime the tank is full.
Please visit our Why An Air Compressor Won't Build Pressure & How To Fix A Compressor Not Building Pressure guide for detailed information on each, along with how to conduct the necessary checks!
Reader Questions & Responses
Kobalt Air Compressor Won't Build Pressure – Kobalt Air Compressor Troubleshooting
Question
I've followed the instructions to set the desired PSI for my bike tire, when I press the Run/Pause button – it only runs about 3 seconds then shuts off – never reaching the target PSI.
My current PSI is 12 and desired to set it at 50.
I have to keep resetting and pressing the Run button, only gaining about 3 psi with each repeated cycle.
The unit is 10 months old and hardly used. Thanks
Response
So, you've seen the thing work in the previous ten months?
Have you tried it with the other power source?
What happens if you leave the tire/hose connection disconnected? Does it keep pumping, or quit that way as well?
I take it you got no help from Kobalt/Lowe's or wherever you bought it?
Question
Yesterday, I tried to use my Kobalt inflator, but the "decrease PSI" digital setting no longer works.
Symptoms: I no longer can lower the desired PSI pressure I want. I press the lower rubber button, but the indicated desired PSI reading stays the same. I can raise the desired PSI pressure okay. Also, the blue LED light does not seem to be as bright as before.
Can someone help me? I've had this for about 5 years and it has worked really well. Thanks, Ben
Response
This really should have its own thread, but since the original questioner hasn't come back with any response to their question, here goes on yours.
From general experience, I can say there's a good chance the control panel is mostly glued together.
So, try to open the thing up and see if that's the case. That's one thing that can cause buttons not to work, and lamps to look dim.
The other thing is the power supply going bad. Switching to the other power source may make a difference. Have you tried that? Any difference?
Also, if you can get a pic or two of the thing, we may be able to suggest more things to check – as right now, we don't really know what's in it.
Let us know. Good luck.
---
Kobalt Compressor Runs But Will Not Build Pressure – Kobalt Air Compressor Troubleshooting
Question
Runs for 5 seconds then cuts off…then every once in a while it will hit for a second or two.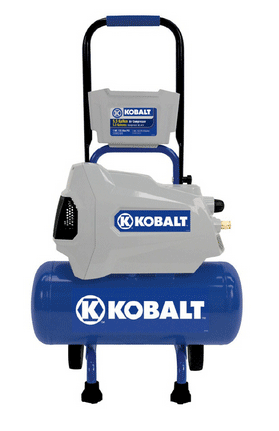 Response
Hi Cal:
A bit more information, if you could.
What's the pressure in the tank? When the compressor runs for a few seconds, is the tank empty, or is it at full pressure?
What do you mean that it will "hit for a second or two"? Does this mean that it starts and runs for two seconds then stops?
When it stops, does it "unload"?
Maybe we can figure it out if you can give me more info.
---
If you have any questions about Kobalt air compressor not building pressure, please leave a comment below, with a photo if applicable, so that someone can help you!