Hey! This site is reader-supported and we earn commissions if you purchase products from retailers after clicking on a link from our site.
Having an issue identifying an Ingersoll Rand air compressor model? This article will provide you with tips on how to identify an older air compressor in order to try to source parts, find a compressor manual, or just get some online guidance on proper use and so on.
This page will also provide an opportunity for readers to post photos of their old air compressors so that someone can help identify them!
Table of Contents
Tips on How to Identify Ingersoll Rand Compressor Model
Identifying an Ingersoll Rand compressor model can be done with the 4 following steps:
How to Identify Ingersoll Rand Compressor Model
Check the backside of the tank

Check the backside of the tank to see if there's a stamp that lists the year that the compressor was produced along with the manufacturer. If only the manufacturer name is present, do a google search of the brand compressors.

Look for patent number

Look along all sides of the air compressor for a patent number, which is often listed near the name of the manufacturer on most older air compressors.

Run a search on the patent number

Go to google patents and run a search on the patent number (if you find it), this will provide you with basic information on the model including the manufacturer and issue date.

Upload images of the compressor to a forum

Upload images of the air compressor to a forum like this page where other compressor connoisseurs are likely to recognize the model.
For more detailed information, visit our Identifying An Older Air Compressor – Serial Numbers, Photos & Antique Air Compressor Identification guide here!
Reader Questions & Responses
Identifying Ingersoll Rand Compressor Model
Question
Hello, I am trying to I.D. this old air compressor pump so I can match it to the proper air tank. Thank you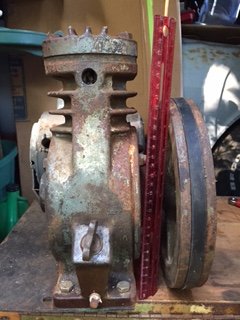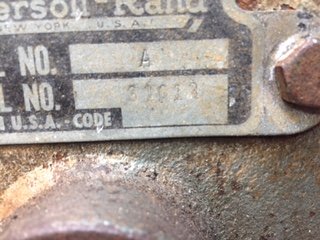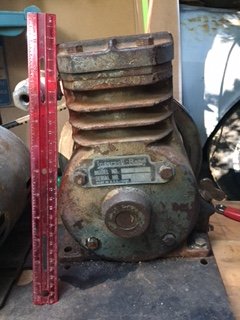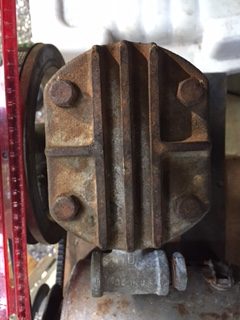 Response
It's got a motor? What's the rating on that?
And the pulley size?
Looks like the sheave is around 9 inches – bore about two and stroke maybe three?
All that is in aid of guesstimating the flow to answer the tank question.
Good with the ruler though. Just kinda hard to see.
Response
Its an IR model A from a 30-liter tank, 2 hp 930 rpm approx 4 cfm
---
Please leave a comment below if you're able to help identify an Ingersoll Rand compressor, or if you have a question yourself, with photos if applicable, so that someone can help you!