Air compressor hoses help you get compressed air from your air compressor to your air tools at their desired locations. They allow you to move around your workshop or garage with ease.
However, they may not always work effectively and a common reason for this is a leakage. This page will serve as a guide to how to go about fixing your air compressor hose leak.
Table of Contents
Tools Required to Fix Air Compressor Hose Leak
Before starting your air compressor leak fixing process, ensure you have the following tools at the ready.
Air compressor hose repair kit (specifically a coupler and 2x hose clamps)
Cutting knife or other appropriate sharp
Flat head screwdriver
Electrical tape
Plastic bag
Step by Step Guide to Fix A Leaky Air Compressor Hose
We can break down the whole process into the following 5 simple steps:
Locate the leak
Cut the hose
Place coupler fitting inside hose
Tighten hose clamps
Wrap plastic bag around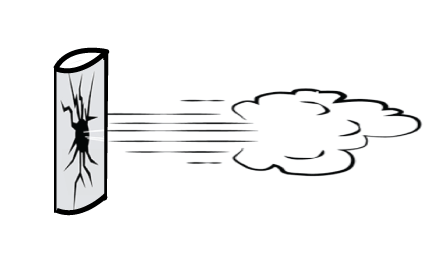 Now lets take a look at these steps in greater detail.
Locate the Leak
First of all, locate the exact position at which your air compressor hose is leaking. If your hose is leaking at the joint then you may be better of buying a full replacement. If your leak is along the length of your hose then follow the rest of these steps.
Cut the Hose
Once you have located the leak on the hose, now you can cut the hose either side of the leak. Use something sharp like a suitable knife or specific tool for cutting wires/hoses and ensure that you make a clean cut so it is easy to complete the following tasks.
If the hose is too thick then seek professional help.
Place Coupler Fitting Inside Hose
First of all take your two hose clamps and put one over each cut end of the hoses. Then take your coupler fitting and fit it into each part of the cut hose.
If you're struggling to get the coupler in the tube, use a lighter or match to heat up approximately 1/2″ from the end of the hose to allow it to expand more easily.
Tighten Hose Clamps
Now tighten them around the coupler to hold the hose and fitting together. However, don't tighten them too much as this can cause them to break.
Wrap plastic bag around
An additional step, to stop the hose fixing getting stuck against chips in the floor or being pulled up a ladder, is wrapping a plastic bag around the centre of the connection and then using electrical tape to hold it in place.
Ensure that you make a slope similar to that described in the youtube video to follow.
Final Checks
After completing these steps, you can reconnect your hose to your air compressor and start the system. Check the repair and ensure it is not leaking any more!
Note: You should buy the best available air compressor hose repair kit regardless of the costs, you need the highest quality to ensure the repair works. If you have multiple leaks along the hose length then it is recommended that you replace your hose with a new one.
Please visit our Air hose size & buying guide page for more information and some readily available options on Amazon.
Youtube Tutorials – How to stop an air compressor hose leaking
This video below better visualises the simple method presented in this article for repairing a leaking air compressor hose.
Another method, that takes a different approach to that presented in this article is in the video below where you will require some additional fittings and tools for the job. But works just as effectively!
If you have an issue at the end of your hose, you could cut the hose and treat it as having no end, then the following video can be great guidance on how to fix it!
If you're having an issue at the end of your hose and it is an issue with the quick connect rather than the hose itself, please visit our Air Compressor Quick Connect Leaks – Why & How to Fix guide!
Useful Pages on Air Compressor Leaks
---
If you have any questions then please leave a comment with a photo if applicable so that someone can help you!