There is very little information to be had about the United States air compressor company, of Cleveland Ohio, on the internet or anywhere else it seems.
I've created this page as folks keep writing in about this compressor brand, asking questions and seeking answers.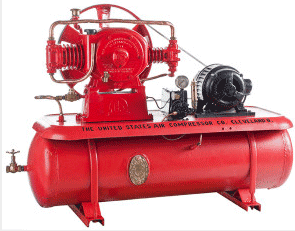 One place I found a bit of info, and the photo above, is the Museo Fisogni located in Italy.  Founded by Guido Fisogni in 1966 and in which is found the most complete collection in the world about the service station (Certified Guinness World Record) equipment, including venerable air compressors. Use the link to pop over to their site and have a look. Very nice!
If you are an owner or user of a United States air compressor and you can offer advice on the questions below, it would be much appreciated
If you have any manuals that you can digitize (take a bunch of photos and paste them into a document, save as a PDF) you can upload them using the form below and I'll post them here for folks to have.
Existing posts:
My question is, can I replace this diaphragm?
This was my dads old compressor and I'm in the process of restoring it.
New comment? New question? Please add it here along with photos to help others help you with your compressor and equipment problem!