For many years the Sears air compressors house brand has been the Craftsman air compressor. Sears, as a retailer, also sells other brands including Ingersoll Rand and Campbell Hausfeld compressors, among others.
Many folks have posted questions about their Sears compressors on this site regardless if they are referring to another compressor brand Sears sells I have added this page to provide a forum for those postings relating to any Sears Air Compressors. Other brands have their own pages on this site.
With the questionable future of the Sears organization, and the Sears brand air compressor line, this site provides a valuable resource, linking compressor users with a compressor problem, and advice from people who may have the same make and model of Sears and that have resolved their issue and may offer guidance to those that post questions.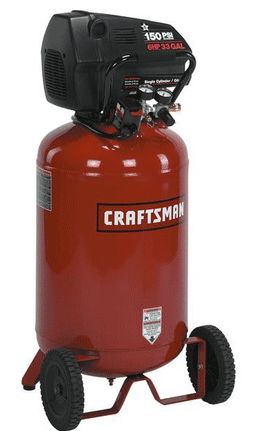 Issues and comments about Sears air compressors already addressed on this and other pages on this site are…
Restarting an old Sears air compressor
Is oil sight gauges also the oil drain gauge on a Sears Compressor
Sears compressor pressure switch problems
Motor buzzes and doesn't start
Compressor capacity and plumbing
Many more more questions, comments, suggestions and complaints are found found below.
Here are the manuals for Sears air compressors I have managed to find so far. Do you have one to share? Use the contact form to reach me, if you do and I'll upload it here. Click the appropriate link to download that compressor manual to your computer. Save the download so you have it for future reference.
Thanks to all that provided manuals and helped others with the Sears air compressors problems and if you have a digital format of a manual that isn't listed, you can upload it too, using the form at the end of this page.
Cheers,
Bill
---
Existing questions about the Sears / Craftsman line of compressors:
Sears compressor pops breakers and fuses
Oil change in an old Sears compressor
Sears compressor electrical issues
Sears air compressor pressure switch issues
Sears compressor with head pressure issues
Sears compressor pressure switch leaking
Sears compressor bogging down and stopping
Sears 106-153784 compressor stalls
Sears compressor running and belt squealing
Caring for an older Sears Craftsman 106.154541 air compressor