by tom thal
(manahawkin, nj)
Hello sir my name is Tom and I was wondering how to wire up this compressor to my normal outlet?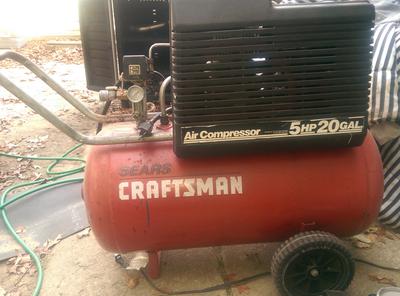 It has almost a normal plug on it, just the one side has a sideways prong, a normal ground and right prong (if holding at you) what can I do?
Help me please I don't wanna have this go to waste
________________________________
Wiring plug
by: Bill
Tom, sorry, but I don't think you can run your 5 HP air compressor motor on a 120 VAC ("normal") circuit.
From the sound of it, your plug and the motor is wired for a 240 volt power supply, so although the plug is "normal" it's a 240 volt one.
___________________________________
"Funny" power plug
by: Doug in s.d.ca
| ~~
0
Looks kinda like the above?
That's a 20A plug. You need a twenty amp circuit with a 20A mating socket.
Commonly seen in industrial / hospital environments, but uncommon in residences, except maybe in the laundry area.
____________________________________
Compressor wiring
by: Anonymous
Tom,
have you tried removing the top of the pressure switch to see how to wire the unit & which voltage requirements are listed ?
Most units have the important stuff for voltage requirements there.
____________________________________
Plug configuration
by: Buster
Hey Tom, I can't really make out the exact configuration of your plug from the description, but there are similar plugs that look close to the same for 120 volt and 220 volt applications.
A 120 volt 20 amp receptacle will have a vertical and a horizontal pin along with a round ground pin.
There is a similar plug for 220 volt applications, but the horizontal pin will be on the opposite side.
You will have to read on the motor and look at how the wiring is connected to the motor to determine the voltage needed. Your local electrical supplier can help you if you have a picture of the plug also.
Hope this helps,
Buster
---
New comment? New question? Please add it here along with photos to help others help you with your compressor and equipment problem!