Hey! This site is reader-supported and we earn commissions if you purchase products from retailers after clicking on a link from our site.
Hitachi air compressors are imported into the United States from Japan by Hitachi Koki U.S.A., Ltd.and are sold throughout the U.S. and Canada by the same retail establishments that sell the Hitachi lines of air tools and accessories – outlets like Lowes, Home Depot, and the Canadian Tire chain.
Clearance of outdated and other models of Hitachi air compressors can be found on Amazon and other online outlets as well.
If you are looking for information, support or parts for your Hitachi air compressor the logical place to start is:
Hitachi Koki USA Ltd.
3950 Steve Reynolds Boulevard
Norcross , GA , 30093 , United States
Website: www.hitachipowertools.com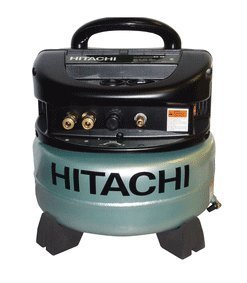 Additionally, this page is a place where users of Hitachi air compressors can ask questions about their compressors.
Or, got a tip or help for another Hitachi air compressor user? Please add a comment about that post.
Hitachi Air Compressor User Manuals
Here is a selection of Hitachi air compressor user manuals you are free to download to your computer.
If you have a digital version of a Hitachi manual that is not listed here, why not upload it via the form below so all can share it?
We thank you!
Bill
---
For information on how to change Hitachi compressor oil visit our guide here!
Existing Hitachi compressor questions