There have been many Hitachi compressor users querying why their Hitachi air compressor not turning on and other questions along these lines. Are you also have Hitachi air compressor problems?
Well, this article will present some of the main reasons why this may be happening and provide Hitachi air compressor troubleshooting suggestions to resolve those issues, along with existing reader problems.
Table of Contents
Reasons Why Your Hitachi Air Compressor Won't Turn On
The main reasons why your Hitachi air compressor not turning on is likely to be due to any of the following reasons, and accompanied with them are some tips on what to do:
Please visit our Air Compressor Won't Start – Ways to Fix Air Compressor Won't Turn On Problems guide for more detailed Hitachi air compressor troubleshooting & fixes!
Reader Questions & Responses
EC12 Hitachi Air Compressor Will Not Start – Hitachi Compressor Troubleshooting
Question
EC12 fills to 125, stops but bleeds off to start pressure but then the compressor won't start-up.
This can happen at different times, works great other times. I think it is the non-return valve (item 53)
Help!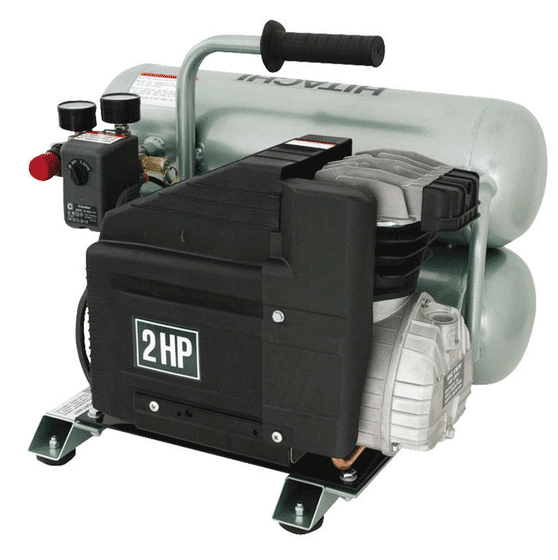 Response
Yeah, that's what we usually call a check valve. Given that this is an intermittent problem, there's probably some crud inside near the seat.
You can probably take it out and disassemble, clean, re-assemble it and reinstall it (maybe even just blow it out if you want to try that first). And do be sure the tank is not under pressure when you do the removal!
If that doesn't do it, then you can replace it.
Have fun.
---
Hitachi EC12 Air Compressor Not Starting – Hitachi Air Compressor Problems
Question
Hi, this is Peter.
I have a Hitachi EC12 twin tank. It's bogging down not running.
I checked the capacitor and replaced it with a capacitor made by Packard, model Prcf40 40ufd: 5. 440vac 60/50hz from the local a/c store.
The original is made by Facon mod 7G73400P7B 40 uF: 5 SH. 450 Vac cl.D 50Hz.
But it doesn't work either.
Do you think I should install the OMD so it can work?
The capacitor from Hitachi is so expensive $38 each or do you think just keep the money and buy a new compressor?
It is ten years old. I want to make sure it works before ordering the capacitors.
Thank you
Response
Peter, are you sure it is the cap? How did you test it, please?
When you acquired the replacement, did you take the old one and ask the store person to give you the exact replacement?
If you don't have the same specs on the replacement capacitor, or if you haven't checked the old cap (you say you did, but how?) then it may not even be the cap that's at fault. Need a bit more info on that? Right here.
At what pressure is your compressor bogging down? Is it at the same pressure every time, or does that vary? What is the circuit amperage? Are you using an extension cord? (Don't) With the intake filter removed, do you still get the same issue?
There are a host of things, including a cap problem, that can cause a compressor to bog down.
---
If you have any questions regarding the Hitachi air compressor won't turn on, please leave a comment below, with a photo if applicable, so that someone can help you!