Sullair air compressors are rotary screw compressors. The company manufactures what they call Stationary Power, Portable Air Power, and OEM type air compressors. Looking for information on Sullair compressors, or a forum for troubleshooting. You have arrived at the right site. Read on.
Within their Stationary Power line, they offer the industrial and manufacturing markets compressors, dryers, and other accessories to help deliver compressed air to those markets.
They are also big in what they term as Portable Air Power, and by that, they mean what I refer to as Tow Behind type air compressors like the model 750 H shown in the photo.
For those looking to have a compressor manufactured for them, Sullair Compressors offers their OEM line and they will build a compressor to suit your application.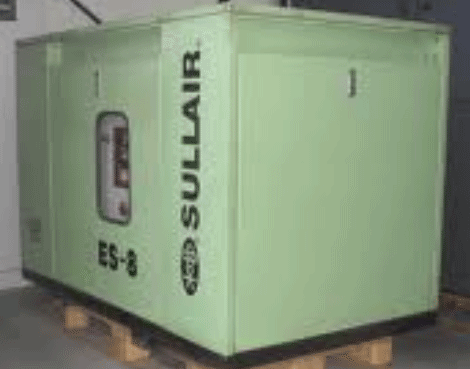 Sullair compressors are sold worldwide. They have been building rotary screw compressors and systems since 1965, and have manufacturing facilities in the U.S., in China, and in Australia.
In North America, Sullair compressors can be reached here:
Sullair, World Headquarters
3700 East Michigan Boulevard
Michigan City, IN 46360
W: www.sullair.com/americas/en
This page is here to allow folks to ask questions about the Sullair air compressors in the OEM, stationary, and tow-behind models to help other users of the Sullair brand.
Got a question about your Sullair air compressor? Before posting it using the forum, you may want to read the existing submissions as your question may already be answered. Consider viewing the troubleshooting pages on this site too, as solutions to many compressor problems can be found there.
If you can help another Sullair compressor user by commenting on an existing post, that would be a great help for them and other Sullair air compressors users.
If you have questions about the Sullair 185 see this page.
If you have any questions about the Sullair 375, here is information about that model.
Thanks to questioners and all those that help providing answers.
Bill
---
Existing questions and answers about Sullair Air Compressors:
In automatic and manual, the compressor will not start, saying it is waiting for blowdown.
I start on the engine it run fine but when we press the button of the compressor it shutdown
Recently i changed the oil and all filters in our compressor, The next day it shut down with the code low line pressure
We are using two 3710/A type air compressor in our facility for rig drilling operations. We are facing an unusual
Sullair 185 will turn over but won't start even by spraying a little starting fluid in breather.
When I start the unit now, the sump pressure starts at 135 and rises rapidly-until the pressure relief valve opens.
Sullair compressor is reading around 140 psi sump pressure while unloaded and blow down valve
Recently moved the Sullair ES-8 compressor and as soon as I tried to power it up
Oil haze is coming back up through air filter during shutdown
Sullair compressor blowing oil
Oil in air filter – setting Sullicon control to inlet valve
Sullair 185 keep shutting down
Sullair 185DP0CA keeps shutting down
Low engine oil pressure alarm went off
Getting 3 flashes from the SSAM
---
New comment? New question? Please add it here along with photos to help others help you with your compressor and equipment problem!