Jun-Air air compressors are normally sold at industrial compressor and compressed air component distributors, and from some specialty distribution outlets such as dental and laboratory supply houses.
These slick air compressors appeal to the specialty air compressor market because Jun-Air air compressors are among the quietest available, anywhere in the world.
Jun-Air head office is in Denmark, and information about the complete Jun-Air compressors line is available from: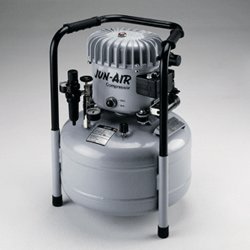 If you click the SUPPORT link on their very good website, you will find a link to a page that provides downloadable .pdf files for every one of their air compressors. Good on Jun-Air for providing this service to their clients… old and new.
If you are searching for a manual Jun Air compressors, just visit the Jun-Air site at jun-air.com and follow their link to technical documents or manuals.
Change Jun-Air oil
There are resources on line that show how. As far as I'm concerned, since the site glass is close to the the lowest point in the sump, the easiest way may be this.
I would open the oil vent at the top of the pump, then, with care as it will be a mess, remove the sight glass. Oil will pour out, and as it does, tilt the pump towards the sight glass to drain as much of the oil as possible.
Replace the sight glass and fill with fresh oil.
This is a Jun Air compressors page to help users find information relating to Jun-Air air compressors from others that own and have worked on their own. If there is something about the Jun-Air air compressor use that evades you, and you cannot get the information from Jun-Air directly, on this page you can both post and read about the issues and comments of others that are using Jun-Air air compressors.
If you are a Jun Air owner or user and can offer advice on any of the questions, please do so.
Oil change video: Changing to a different oil in Jun-Air compressor
We all benefit from your experience.
Cheers all,
Bill
---
Existing Jun-Air Compressor issues:
I am looking for any info related to a 1972 Jun-Air Model 6 and what is appropriate oil to use/where to get
Oh my goodness. I cannot find parts etc. They all want to sell me a new on and all I need is a new air
Inadvertently ran the thing out of oil…
Old like new JUN-AIR COMPRESSORS. 20 & 23yr old silent oil lubricated JUN-AIR compressor. I've recently decided
My 1987 Jun Air 6 X 25 does not work any more. The symptoms are as follows.
I have a JUN-AIR compressor with a Condor MDR 21-EA/11 pressure switch. The pressure switch appears
We have a 150 liter Jun Air Model 4000M-150B Compressor
I've got a small Jun-Air compressor that has always worked brilliantly and I use it with a stapler. It now doesn't cut
---
New comment? New question? Please add it here along with photos to help others help you with your compressor and equipment problem!