Hey! This site is reader-supported and we earn commissions if you purchase products from retailers after clicking on a link from our site.
by Nigel
(New Jersey)
Old like new JUN-AIR COMPRESSORS. 20 & 23yr old silent oil lubricated JUN-AIR compressor. I've recently decided to start back painting after a long hiatus. Inspired by my eldest artist/son I'm dusting off the ole equipment, airbrush equipment.
I own from new 2 JUN-AIR compressors. The 6-25/Maxi and the 12-50 JUN-AIR. I've only had to top off the oil on the most used 6-25 JUN-AIR and make a few minor minor maintenance repairs to the NON-RETURN VALVE. Replacing twice the spring and o-rings and the unloader valve.
Whats needed now is oil changes to both compressor units, Causing me to research my SJ-27F synthetic oil options as this a senseless expensive maintenance requirement that is largely over due largely because of duration time 20+yrs.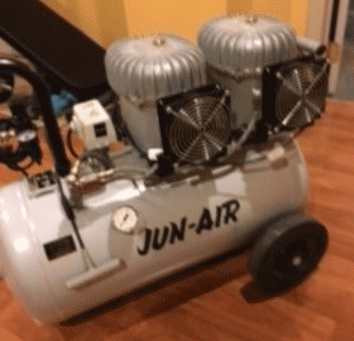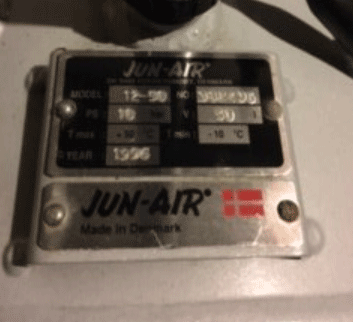 The dilemma discussed on many JUN-AIR enthusiast threads like this is using the JUN-AIR OEM SJ-27F synthetic oil or finding another like SJ-27F brand.
The JUN-AIR is sold in many places over the MSRP actually cost $50.00 for 16oz direct from JUN-AIR.
My issue is I would need 5 16oz bottles $250.00 worth of before shipping cost.
I searched online and came across some other brand options on Amazon.com.
I ended up calling one of the sellers Dental Planet.COM spoke with helpful parts & service support rep who has assured me that the alternate DCI SJ-27F synthetic oil brand type was the most commonly sold brand and also comes in 24oz bottles and sells for $45.00 a bottle. So I have opted to purchase 3 bottles and I am awaiting my delivery.
I have including some pics of my units for viewing, enjoy. I will be back with my results and more pictures. Thanx for listening.
________________________________
DCI SJ-27F synthetic oil
by: Bill
Thanks for the news, the photos, and we are all looking forward to your results with the DCI SJ-27F synthetic oil.
If you wander back in the comments and posts, you will see that others have used alternate oils in their Jun-Airs in the past.
________________________________
SJ-27F
by: Doug in s.d.ca
I was poking around on this subject, and see that at least the newer Jun-Airs don't use rings on the pistons – do you know if that's the case with your units?
_______________________________
To Doug in s.d.ca
by: Nigel
No, I'm just doing maintenance.
I've had my compressors for a long time 20+ years and they still run like new. Though I've not used them in 12+years I've kept them in very good condition.
Now that I will be using them again an oil change is needed and overdue, though I can't tell by the way these compressors operate today.
It's really a precaution as the JUN-AIR oem SJ-27F synthetic oil currently running in each of my compressors has done an exceptional job lubricating the JUN-AIR 6 motor heads.
I just felt that the synthetic oil brand change to DCI came as a matter of cost and value. I'll be doing the oil change this weekend on the 12-50 1HP model and hoping to do a time lapse video oil change "How To" as many YOUTUBE searches on JUN-AIR lubricated compressor maintenance have been nil.
_____________________________________
Changing Jun Air Oil
by: Bill
Re this: "hoping to do a time lapse video oil change "How To", if you do so Nigel, and wish it so, send me the video URL and I'll add it to the Jun-Air page.
_______________________________________
JUN-AIR 6-25 DCI/SJ-27 OIL CHANGE
by: Nigel
Oil change video:
(Thank you Nigel. Your video has been added to the Jun Air main page as well.)