Hey! This site is reader-supported and we earn commissions if you purchase products from retailers after clicking on a link from our site.
Curtis air compressors are manufactured by the FS Curtis company. They have been building compressed air related products since 1854. Their product line is aimed at the industrial market.
Curtis air compressors products include reciprocating air compressors, rotary screw compressors, specialty refrigerant air compressors, and vacuum pumps. They also supply a variety of air preparation equipment and other ancillary products.
Curtis air compressors are available throughout North America, in all of South America, and they also supply to the compressed air industry in India.
In North America Curtis air compressors are sold and serviced via select industrial distributors nationwide.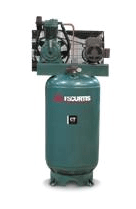 The Curtis website offers a page to quickly find your local distribution by zip code or you can contact Curtis directly here:
CURTIS-TOLEDO, INC.
1905 Kienlen Avenue
St. Louis, Missouri 63133
Toll Free: 800-925-5431
T: 314-383-1300
E: [email protected]
W: www.fscurtis.com

Folks that are familiar with the Curtis air compressors lines can use this forum either to post a question or help other users of the Curtis air compressors brand.
While on the way to post a question using the form at the end of this page, please scroll down and read the existing submissions as your question may already be answered. It is also useful to view the troubleshooting pages as solutions to many common compressor problems can be found there. If you cannot find an answer here already please post your question.
If you can help another Curtis compressor user by commenting on an existing post, that would be a great help to us all.
If you have a digital format of any Curtis air compressor manual you would like to share with others, please contact me via the contact page. If you haven't a digital format, consider taking a photo of each page of the manual you have, paste each photo into a word .doc, one photo each page, and you can send the .doc to me for putting up on the site for others to have.
And our thanks to Doug in S.D.Ca for providing this manual for you to download:
Thanks much,
Bill
---
Existing Curtis Air Compressors questions:
By the tag mounted on the tank, it's made by the Curtis MFG. CO., St. Louis. I took a rubbing, because a photo
Looking for info on Curtis ES-50. It looks heavy duty, but an older model Curtis. Curtis appears to