Hey! This site is reader-supported and we earn commissions if you purchase products from retailers after clicking on a link from our site.
I was of the opinion that Belaire air compressors appear were manufactured in South Carolina, USA. In a recent post, Ray from compressorpros.com provided the following intel:
BelAire Air Compressors are assembled in AL as part of Atlas Copco. The facility builds BelAire, Chicago Pneumatic and Quincy piston air compressors. Two stage pumps come from Italy, except the cast iron, which are Chinese like most.
Belaire air compressors are available in a variety of horse powers, and in piston (reciprocating) or rotary screw versions.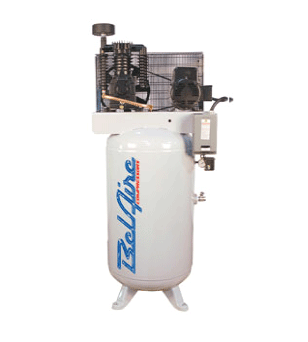 Over the years there have been a few questions and comments posted on this site about Belaire air compressors, enough interest to warrant this brand having its own page on my site.
If you have a question about your Belaire compressor, the first choice for help is Belaire themselves. Their contact info is:
Belaire Air Compressors
Belaire Compressors
1800 Overview Drive
Rock Hill, SC 29730
877-861-2722 Phone
803-817-7468 Fax
W: www.belairecompressors.com
In the event you are looking for more help, why not ask other Belaire owners and users below?
Before posting your question, it would be useful to take a few minutes to read the troubleshooting section as pages there cover a variety of common compressor issues.
If you could help another user with a Belaire compressors problem that would be good. If so, please add a comment to any of the questions found below.
With all of our thanks,
Bill
Additional pages and postings about Belaire air compressors: