So what do we know about Alltrade air compressors? Alltrade air compressors are sold by a company called Alltrade Tools LLC whom are based in California. The company lays claim to have manufacturing and assembly plants in Taiwan and in China and do not appear to manufacture in North America.
This page will provide you with all the relevant information on Alltrade air compressors including contact details and readily available manuals online!
Table of Contents
Alltrade Information
Alltrade sells their compressors online via Amazon, and through major and minor retail outlets such as Walmart, PepBoys, Tractor Supply, Rona, Parts Source, Canadian Tire, and more. They have a number of company owned brands and typically make their air compressors through their Powerbuilt® Tools & Equipment company.
The company suggests that they have expertise in the design and manufacturing of many of the products they sell. Their air compressors look very similar to those sold by other brands, however. I expect that many of the Alltrade Air Compressors come from the same factories in China that make other brands of identical compressors. This doesn't make them a bad source or a bad brand of compressors, but I see little that will differentiate their compressors from others.
They chase the price market for compressors, I believe, and as such, the consumer may not want to look at this brand for other than hobby or light workshop use. That's only my opinion, of course!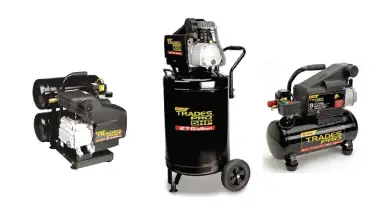 The Alltrade compressor range currently is from a 3 gallon fractional HP type up to a 5 peak HP motor driven compressor on a 30 gallon tank.
Alltrade also sells the Air Plus brand of air compressors. They also sell Snap On compressors as an official Licensed Product. Snap-On is a trademark owned by Snap-on Incorporated and is used under license.
Alltrade Air Compressors Contact Information
1431 Via Plata
Long Beach, CA 90810-1462
Phone: (310) 522-9008
Email: [email protected]
Product Support / Parts & Service:
Phone: 800-423-3598
Website: www.alltradetools.com
Alltrade Air Compressor Manuals
Here is an Alltrade compressor manual readily available for download:
For more, please visit the Alltrade parts website where a number of manuals are available!
Alltrade Air Compressor Parts
For Alltrade air compressor parts it is best to navigate their website or contact them directly regarding the part you're after!
You can visit the Powerbuilt website directly and search for "air compressor" to bring up their available products.
Alltrade Air Compressor Problems
While contacting Alltrade would be the logical first choice if your Alltrade air compressors is giving you problems, if satisfaction cannot be obtained there, may I suggest you reach out to talk to others that use the Alltrade brand? You can do that using the comment section below.
If you have or have had an Alltrade Compressor and want to share your experiences with others that may have questions, please review the questions and comments below, and add any advice you can by commenting on that particular question.
Your help will be of great service to other Alltrade air compressor users, and I thank you in advance!