Air Compressor SCFM requirements for my air stapler. Have I got enough capacity?
I purchased a CH 1.3 running HP / 8 gallon air compressor. I also purchased a flooring stapler that says it needs SCFM requirement of 6.36 [email protected] 90 psi as minimum standard.
Will the flooring stapler work at 6.36 CFM @ 90 psi with a CH 1.3 running HP / 8 gallon air compressor or do I need to return the flooring stapler?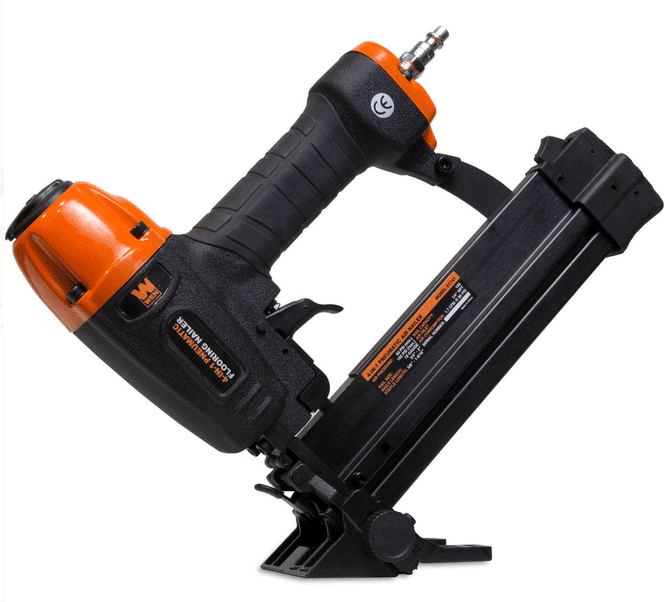 ____________
Howdy 'Mach04':
Will your compressor run your stapler? Yes, it will.
Will your compressor run it well enough for you to move quickly on your floor installation? No, it likely won't.
Somewhere in your compressor information (manual / spec sheet / label) it will tell you what air flow your 1.8 running HP will generate at certain air pressures. I'm going to guess that it is about 5 CFM @ 90 PSI, and maybe twice that at 40 PSI.
Your 8 gallon air tank will hold likely in the area of 150 PSI of air, depending on what your cut-out pressure is on your compressor pressure switch, and what it is designed to do. So, you will have a bit of leeway there, as you will set your downstream air pressure to the 90 PSI that your stapler needs, and your supply will be at (briefly) 150 PSI.
The bottom line is that if you aren't in a hurry, then you can take a few shots with the stapler, this will draw down the available air pressure to below your minimum operating pressure for the stapler, and then you wait until the air pressure in the tank catches up.
If you are putting floors in for a living, then you can't afford to wait for air pressure, and you will need a bigger compressor.
I reiterate: Will your compressor run your stapler? Yes, it will. Will the compressor run it fast enough for you? That's up to you to decide.
Complete details of compressor size, wiring, how the compressor is limited by voltage etc. are found in my ebook The Home Compressor. Might be an idea for you to get a copy?
__________________________________
Responding to Bill
by: mach4
Hi Bill
Thank you for your quick response.
I'm a slow meticulous, rookie when doing upgrades around my house. I usually only to projects during the summer holidays. Took me 2 summers to finish my two level deck.
To summarize it would seem that my 8 gallon air compressor and flooring stapler will work fine to do the living this summer as I am a slow worker.
I was concerned because the Campbell Hausfeld 1.3 HP 8 gallon works only at 3.7 SCFM @ 90 PSi and the flooring stapler requires 6.36 CFM @ 90PSi.
These numbers seem to indicate a larger discrepancy.
The CH air comp came with a 1/2 impact wrench that needs 5.1 SCFM @90 which would indicate that the CH air comp can't handle it.
Maybe I bought an air comp that is too weak!!
Should I have bought one over 10 gallons?
___________________________

Paul, you'd need a much larger tank than 10 gallons to run an impact wrench for more than a few seconds.
The same advice applies.
Any air compressor will run any air tool as long as it generates the MOP (minimum operating air pressure of that tool).
A big air compressor will run an air tool for a long time without having to stop the tool and wait for the air to catch up.
A small air compressor will mean that, for some air tools, you will only get a few seconds use before the air is consumed, and since the compressor can't generate the flow rate of the tool, you will need to wait for the air pressure to regenerate.
I'm always in favor of a bigger air tank over a smaller one.
The larger tank helps power an air tool for a longer period between waits, but with most home compressors, waiting for the air to catch up is part of the 'joy' of owning them.
---
New comment? New question? Please add it here along with photos to help others help you with your compressor and equipment problem!