How do I size an air compressor for sand blasting?
by Randy Murphy
(Piqua Ohio, USA)
I purchased a Snap-On Pressurized sand blaster, Model Y441 pressurized tank @ 80 psi.
It has a 1 inch delivery hose coming out of the tank. I have hooked up the supply line, which is .5 inch copper feed line, with a .5 inch hose.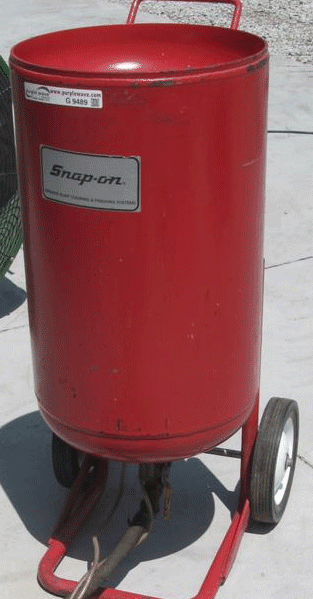 Snap-On rep. said this unit should blow paint off down to metal with no problem. It take me two minutes to get a 1 square ft. area and lots of media. Please help suggest a fix.
Sandblaster CFM Requirements – Answer
My Response: Hello Randy. From your post I understand that you feel that the Snap-On Pressurized sand blaster may be being under-powered by the .5 inch copper supply line versus the 1.0 inch delivery hose?
Am I correct in understanding that the 1.0 inch hose is the media delivery to the blast nozzle, or is that the compressed air supply to the blaster?
Randy, I don't do much blasting, so I don't know if 2 minutes to get 144 sq/inches of metal back down to clean profile is fast or slow.
I do believe that somewhere in the specs for the sandblast unit it should tell you what the compressed air feed flow rate for that blast gun, at 80 PSI is. That's the info that will tell you whether you have enough flow or not.
What's that spec, please? If you can't find it, ask the rep.
The PRESSURE DROP page on this site has a chart to give you some idea of the flow through various sized orifices if that helps.
Anyone else?
---
Can my Craftsman air compressor run my sandblaster?
by jdub
(wv)
I have a craftsman 1hp, 3gal air compressor.
Can i use this with a sandblaster, and if so what size will fit this small compressor?
Answer
My Response: Jdub, it is pretty hard to answer this question for you without knowing a bit more information.
Your air compressor is pretty small, and will put out about 4 CFM of compressed air at 90 PSI at the very most, and that's being optimistic.
Your 3 gallon air tank will supply a sand blaster for only a few seconds before becoming empty, and since your compressor is so small, it will be running continuously trying to catch-up with the air in the tank, and will not be able to do so while you are running the blaster.
You haven't provided the info I, or you, need to determine if your air compressor is adequate so you do need to read the pages on this site regarding sizing an air compressor.
However, I strongly suspect that if you try to run your sandblaster with a 1 HP air compressor, you will not have any success. Sandblasters are high demand air tools, and your little compressor won't even come close to the flow needed.
---
Sand blaster air consumption?
by Matthew
(Albuquerque, NM, USA)
On your page about air consumption, it is listed that a sand blaster will consume 300+ CFM. That seems like a whole lot.
Maybe you made a mistake there on that page because I've looked at other websites and they list sand blasting CFMs a lot lower, I think that the highest listed that I saw was 150 CFM.
I'm just a hobbiest more or less, so I don't need a huge compressor. What would you suggest? –Matthew
Answer
My Response: Hi Matthew…
Your comment is a valid one in that there are hand-sized sand blasters that use minimal air, and sand blast booths that will use hundreds of CFM of compressed air to work properly. Graco sells a blast solution that uses 425 CFM, for example.
Rather than showing a range, I simply picked a high consumption number to force viewers to focus on knowing the CFM requirements of the blaster they wished to use.
You say "I'm just a hobbyist more or less, so I don't need a huge compressor."
Well, depending on the hobby, you may need a huge compressor, or, for example, if you are brushing a few small plastic models, a really small air compressor will do.
Which leads me to your question… somewhere in the specs for your air using equipment, should be information about that equipment's air demand, typically in PSI and CFM.
I cannot suggest a compressor size, as I do not know what your air tool requirements are.
Without that information being used in the sourcing of your compressor, you are destined to either get one that is too big, to small, but rarely an air compressor that is right on in terms of air supply versus air demand.
---
Air needed for 5 gallon blaster?
by Glynn Hancott
(Ontario Canada)
CFM = cubic feet per minute – what is the volume of air that is required from my air compressor to effectively run a five gallon Sand Blaster?
Answer
My response: Glynn, we, myself and others who visit this website, can't help answer this question except in generalities as the flow and pressure requirements for any air tool, including your sand blaster, are brand specific.
Then, you don't say, but do you plan on blasting all day every day at work, or are you just doing a small job, a one off, for example?
The amount of blasting you will be attempting will have a bearing on the size of compressor and tank required.
I can't be sure, yet based on trying to blast with my little blast kit, my guess would be that for any kind of regular use, I expect you'll need at least a three, and probably a five HP sized compressor, with a 30-60 gallon tank.
That's just a guess, as you really need to find out what the specs for your blaster call for.
Cheers,
Bill
---
New comment? New question? Please add it here along with photos to help others help you with your compressor and equipment problem!
Want to know how to size an air compressor for any application? See my guide on how to size an air compressor properly for any job.