by PAUL
(SPRINGFIELD, MA USA)
Recently moved the Sullair ES-8 compressor and as soon as I tried to power it up I got this error message:
P1 LOW
2 64
Now it will not start at all.
Thoughts?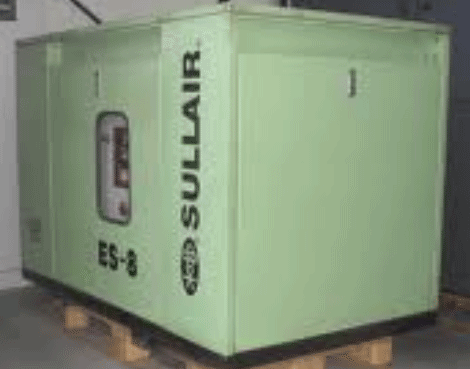 __________________________
Reminders from the manual
by: Doug in s.d.ca.
A detailed visual inspection is worth performing for almost any problems which may prevent
unnecessary damage to the compressor. Always remember to:
a.Check for loose wiring.
b.Check for damaged piping.
c.Check for parts damaged by heat or an electrical
hort circuit, usually apparent by discoloration or a burnt odor.
MOTOR ROTATION DIRECTION CHECK
After the electrical wiring has been done, it is necessary to check the direction of the motor rotation.
Pull out the EMERGENCY STOP button and press
once, quickly and in succession, the (START) I and
(STOP) O pads. This action will bump start the mo-
tor for a very short time. When looking at the motor from the control panel side, view the coupling by looking through the air inlet duct on the lower side of the adapter fan housing. The coupling should be turning clockwise. If the reversed rotation is noted, disconnect the power to the starter and exchange any two of the three power input leads, then re-check rotation. A "Direction of Rotation" decal is located on the motor and cooler shroud to show proper motor/compressor rotation.
Let us know what you find, please.
Good luck.
__________________________
P1 Low
by: 40 year compressor guy
P1 low means that once the unit is started the computer looks for the P1 transducer to register air pressure. A timer times out if not registering pressure it shuts down on a low P1.
The easiest problem is a bad transducer.
The supervisor should show the P1 value. What is that value? Is it 0? or is there a negative such as -10.
When you clear the fault and start the unit are you watching the P1 valve raise?
the other issue can be the inlet valve. If the inlet valve is closed and stuck closed the sump will not see and pressure. That is a check if the sump pressure is not raising.
Since you stated the unit will not even start I would suspect the worst.
Maybe a drive coupling or snapped shaft or air end locked up. If the P1 transducer had a failure of a loose wire or the transducer has funny readings "out of range" the supervisor will tell you P1 error.
---
New comment? New question? Please add it here along with photos to help others help you with your compressor and equipment problem!