by jon
(Hampton NH 03844)
Getting an fault code of DM 1 on a Kaeser SM11. What does this mean??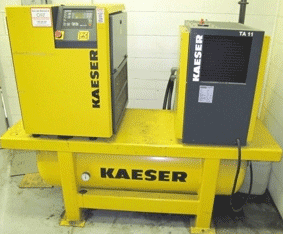 ---
Photo of controller DM1?
by: Carl
Hi, I'm a Kaesar engineer but never heard or seen this fault code before? Could you repost the question with a photo of the controller showing the fault, please?
Many Thanks
Carl
---
Kaeser Fault DM I
by: Anonymous
I found out what this means.
Overload relay…
Drive motor interlock …
SM 11.
Burnt out 10 HP 400 volt electric motor /230 volt, 3 phase.
Made in England from the UK.
---
Motor?
by: Carl
Ahhh ok, thanks Anonymous!
If it is motor overload then open the electrical cabinet door, on one of the contactors there will be a blue or red reset button, press it and it should reset the motor overload.
If that doesn't work then try turning the motor by hand with the belt off, it should spin freely, if not then your motor bearings will need replacing.
---
I have never seen it
by: Steve
I have worked on Kaeser compressors for many years
and as above never seen this fault message before
Steve
---
New comment? New question? Please add it here along with photos to help others help you with your compressor and equipment problem!