I have my departed dad's old Craftsman Air Compressor model number 106.154541. I'm trying to find information on how to care for it. It hasn't been properly maintained for decades and I'm trying to find an owners manual that shows a parts diagram. I can't figure out where to drain and add oil. It has 2 gauges on it but I don't know what each does.
Currently I can't get it to pump more than 32 psi into a tire, and I think that might be a pressure regulator setting, but I don't know where to adjust it. I did change the air filter that was so dirty I didn't know it was a filter. I don't think the water has ever been drained from the tank.
I've read up on what needs to be done, I just don't know what all the gauges and gizmos are on the unit to know what does what. I can't find a manual for this particular unit. Any help will be much appreciated, writes in Cindy.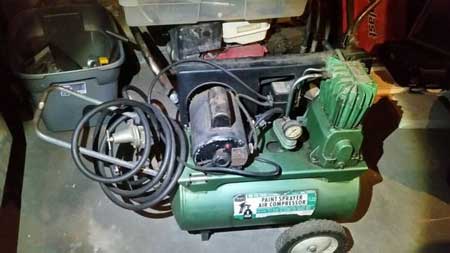 Maintaining an Older Craftsman Air Compressor
Hello Cindy… guidance about basic compressor maintenance and what all the gizmos on the compressor are and do are located on the pages of this site is some detail. If you use the search box and search for the pages about… regulators, for example, it will show all the pages along with those that refer to information about them. Or, the left navigation list shows links to key pages including those that talk about what the compressor parts do. These will certainly help.
As to the 106.154541 model air compressor manual, I haven't got a copy yet, and when I get one, I put it up on the Sears / Craftsman page for all to have. If someone has it in digital form and adds it as a comment, I'll install it on the site for all.
Cindy responded, I haven't been able to find a manual online for this model, but I did find a generic one. I spent some time cleaning it up yesterday and found the oil add and drain plugs, also the water drain plug. They're so rusted I couldn't get them open, so I sprayed them with some PB Blaster and will try again today. I also discovered what I hoped was the regulator valve near one of the gauges, and when I turned it I was able to get it up to 50 PSI. My guess it is that my dad had set it at 32. So I guess I found the answers to all my questions!
I remember my dad buying this compressor in the 60's or 70's and it still runs great even after all the neglect it's suffered. I thought I was going to have to replace it, but it lives on! PS – the picture is one I found online, mine was covered in grease and oil. I had to use engine degreaser to clean it up. It looks more like the one in the picture now!
You sure do want to drain the tank asap to be sure that all the water is out, and if there's water, ensure that it hasn't got "chunks" of rust in it, which would indicate corrosion inside the tank.
Also, if you haven't, change the oil.
Last, if the regulator won't get up higher than the 50 PSI, and the tank gauge shows a higher pressure in the tank, it may be time for a new regulator, and not too expensive replacement. Good luck!