Sears air compressor plugged in to 220 volts in 110 volt mode
by jimmie
(indy)
I purchased a used sears air compressor came with manual and everything. It is a duel voltage will run on 110 or 220. Ran it on 110 until i installed 220 in garage.
Looked a manual it showed how to install 220 wire but did not tell there was a separate instructions for the motor witch in tailed swapping 2 wires on motor.
You know where this is going.
I was so happy for my 220 project plugged in compressor it ran like crazy for about 15 seconds then shut off never to start again.
Upon looking at motor itself there is a diagram on motor.. Could the 2 start capacitors on top of the motor be blown out or is the motor junk?
_________________
Hi Jimmie:
I'm into compressed air, and I don't profess to be either an electrician or an electric motor expert.
It were me I'd simply take the motor off, with capacitor, and take it to the local motor rewind shop. Almost every town has one good 'ol boy that rewinds / rebuilds electric motors.
That's the guy to ask if your compressor motor is fried or not.
---
106.175541 220 to 110 – is conversion possible?
I received compressor recently passed down but it is wired for 220, can it be switched to 110? It is model 106.175541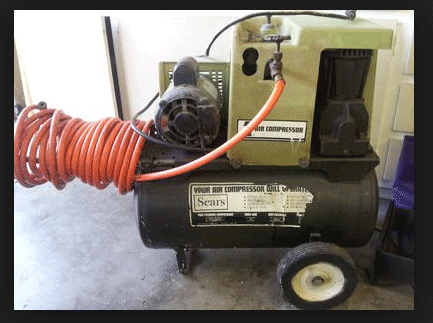 __________________
This is a twin cylinder compressor, at least what I was able to find on it suggests so.
Can you install a 120 vac motor where you originally had a 240 vac motor? Sure.
Will the 120 ac motor run the compressor? It depends on the horsepower needed by that compressor, and since I don't know the horsepower of that compressor, I can't be certain.
For more info, see Compressor Power Supply linked from the electrical section on the site map page.
---
Craftsman 5.5hp 30 gal air compressor wired for 110 outlet – make it 220?
by GENE BARBEE
(FAYETTEVILLE, ARKANSAS 72703)
Model # 919.16150
Is wired for 110 outlet, can I have this unit wired up for a 220 outlet?
If the air pressure does not go all the way down to almost zero, the unit has a hard time starting up again and sometimes trips the circuit breaker. It is plugged directly in the wall, no extensions used, should I be experiencing this issue?
Gene Barbee
_____________________
Gene, I tried to find the specs on your air compressor, but Sears doesn't show that model as current.
Tell you what though. I can't believe that your 5.5 HP air compressor will even run on 110 power. Have a look at the troubleshooting page and follow the link that says Compressor Power Supply to understand why I say that.
I don't know if your motor is wound for dual voltage or not. If you cannot find the electrical schematic or manual for your air compressor that should give you this info, then take the motor to a local electric motor shop for testing.
Far as I'm concerned you shouldn't even try to run your air compressor on a 110 volt power supply.
---
How many amps will a 6hp 22o volt air compressor draw and can i use a 12/3 wire to run 220 volts power to compressor
How many amps will a 6 hp 220 volt 33 gal compressor draw and can I use a 12/3 wire for power source
____________________
This is what I've discovered. Your amp draw will be based on the efficiency of the electric motor. At 70% efficiency the 6 HP motor will probably pull in the area of 25-35 amps, or so I've been told.
As to the wire size, your wire supplier should have a chart showing capacity of wires, and, of course, it depends on how far you want to run the power supply from source to your air compressor. The longer the run, the bigger the wire required.
Or, see if this helps: www.powerstream.com/Wire_Size.htm