by Roy
1947 66 gal 7CFM 1 pump with a slow start 220+v motor Air Compressor. This was my dads old compressor and I'm in the process of restoring it.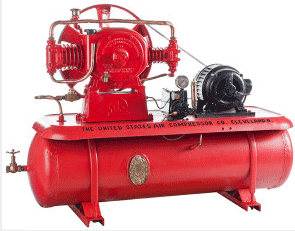 Mainly I want to know the technical name and information on the original motor and if I can alter somehow the motor I have to correctly run the compressor.
The old motor started out real slow then clicked and sped to full speed. The new motor nearly rips the belts off as it starts.
Please help me with this information and possibly if you have a motor that will operate my pump a little more efficiently than the old one and would consider trading for my new motor.
Unfortunately I can't upload any more pictures. (Please add more photos using the form below – Moderator)
Thanks