Hey! This site is reader-supported and we earn commissions if you purchase products from retailers after clicking on a link from our site.
There have been many folks that wish to inquire about why their Kobalt air compressor not turning on and other questions along those same lines. This article will present some of the reasons this may be happening and provide Kobalt air compressor troubleshooting suggestions to resolve those issues, along with existing reader problems.
Table of Contents
Reasons Why Your Kobalt Air Compressor Won't Turn On
The main reasons why your Kobalt air compressor not turning on is likely to be due to any of the following reasons, accompanied with them are some tips on what to do:
Power issue – avoid using power bars and power strips.
Fuse or breaker blows – circuit breakers will trip off when a power surge blows their fuses. If the fuses are faulty, you will need fuse replacements.
Faulty pressure switch – unplug the Kobalt compressor from the electrical outlet before opening the drain valve releasing the air from the tank down to zero and then closing the drain.
Faulty thermal overload switch – check the thermal overload switch to ensure it is working correctly.
Faulty unloader valve – check the unloader valve, if the faulty pressure switch may not work.
Insufficient oil – check the oil level, and inspect under the pump area for any potential leaks.
Please visit our Air Compressor Won't Start – Ways to Fix Air Compressor Won't Turn On Problems guide for more detailed Kobalt air compressor troubleshooting & fixes!
FAQs (Frequently Asked Questions)
Do Kobalt air compressors have a reset button?
Yes Kobalt air compressors, like the majority of air compressors, have a reset button. A common problem for compressors is the reset button tripping, visit our page on a Kobalt air compressor tripping reset button here!
Reader Questions & Responses
Kobalt Quiet Tech 26 Gallon Won t Turn On – Kobalt Air Compressor Troubleshooting
Question
Hi,
I purchased a Kobalt 26 Gallon Air Compressor ( From Lowes). I did not purchase the Lowes Warranty as I purchased it with the intention of very low use. Tires and light tools work.
I never had it plugged in and now the Kobalt 26 gallon air compressor won't turn on.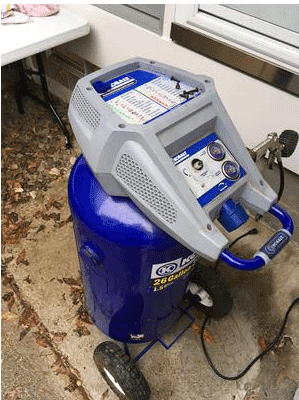 I have no idea what could have happened as I never use this thing. Is there a fuse or cut-off switch?
Can I reset the thing?
Response
Nestor, based on your post I really don't know what you have tried or have not tried in terms of getting your air compressor to run.
Maybe check the troubleshooting page on this site for things to check, please.
Post a comment here with info on what you've tried, and we'll press on trying to solve your air compressor problem.
---
Kobalt Air Compressor Not Turning On – Kobalt 20 Gallon Air Compressor Problems
Question
20 gal tank 1.5 hp
When I start the compressor it builds air pressure as it should and I normally let it build to 90 lbs.
I use the hose for an air-driven function, at this point, the compressor digital readout starts fluctuating on the tank pressure and the tank will not build in pressure. It may jump from 60 lbs to 25 lbs and maybe 0 lbs. The compressor runs but no pressure builds up.
Response
Jay is "it builds air pressure as it should and I normally let it build to 90 lbs." Is this the normal cut-out pressure setting for your compressor?
"It may jump from 60 lbs to 25 lbs and maybe 0 lbs. The compressor runs but no pressure builds up." This suggests to me that it is the digital pressure gauge that is the problem. No way can the pressure in an air compressor tank "jump" from 60 PSI to 25 PSI, and then to zero PSI unless the time frame between the "jumping" is equal to the time necessary for the tank to bleed down the air to those levels. Does the digital pressure gauge ever "jump" up a reading?
Ignore the gauge for a moment. Shut off the compressor. Drain the tank. Start the compressor. Does it start and the run-up to the normal cut-out pressure? Now, use your air tool, all the time ignoring the gauge readout. Does the compressed air flow to the tool? Does the tool run? Does the air compressor cut in again after you have used some air?
Comment here with more info about what you found would be good.
---
Kobalt 241345 won't release air under pressure
Question
Pressure builds up and exits ok through the relief valve. No air comes out through the exit line, however.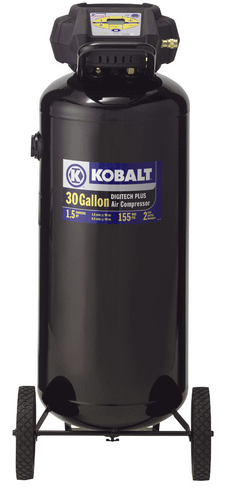 Response
After you check all the things referred to there, if you still have a problem, please add a comment here. I'm pretty sure you'll find your answer there.
---
If you have any questions regarding the Kobalt air compressor won't turn on, please leave a comment below, with a photo if applicable, so that someone can help you!