by Tom
(Wilmington,nc)
Air compressor display works but will do nothing.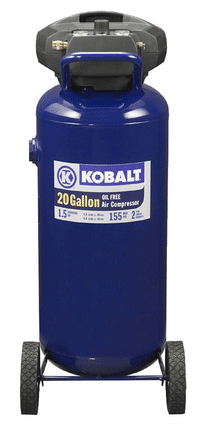 _____________________________
Hi Tom… listen, could you pop over to the troubleshooting page on this site and see the info page about why air compressors don't start?
There are some things noted there that you can check and, when you've done them, please add a comment here to tell us what you've done and seen as a result, and we'll press on with helping you figure out why your Kobalt 215914 won't start.
Just don't want to retype the same information here that is already there for you to use, OK?
Thanks.
---
Kobalt 60G A/C hums and wont start
by Jason B.
(WV)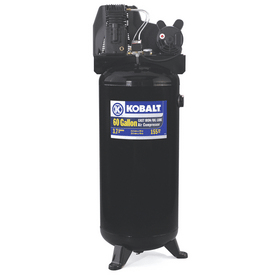 I have a Kobalt 60G upright a/c, I was using it one day recently and while it was running, building pressure, the motor stopped and started to hum. Before I got to it to shut it off it blew the breaker. I changed the breaker and tried to start it, but when I turned the switch on, it turned about 1 revolution and then started to hum and then flipped the breaker. It has done this once before, but back then it wouldn't even turn. Turned out to be the capacitor(s). Is this the problem? Since it tries to start, could it be that only one capacitor is bad?
___________________
Hello Jason. If the motor was running and the air pressure did not reach cut out pressure, and the motor suddenly stopped and would not re-start, my bet is that your motor is at fault, not the capacitor.
My thought is that if the capacitor had failed, your motor wouldn't have enough ooomph to even start turning, and after the built in delay in your circuit, the breaker would pop.
Your motor may need a rebuild.
The only other thing I would do before I took the motor and capacitor in for testing, and only if I was comfortable doing so, is to bypass the pressure switch, flip the breaker on, and see what happens. There may be an outside chance that your problem is caused by a faulty pressure switch.
Cheers and good luck. Maybe let us know how it works out?