Hey! This site is reader-supported and we earn commissions if you purchase products from retailers after clicking on a link from our site.
The entries on this page about the "tool pressure regulator knob stripped – broken model 0300841" have to do with the Kobalt line of air compressors, primarily.
Folks continue to visit this page to see the existing questions and replies, and now, can add a question and a photo or a few photos using the form at the end of this page.
---
by Clint
(Alvarado, Texas)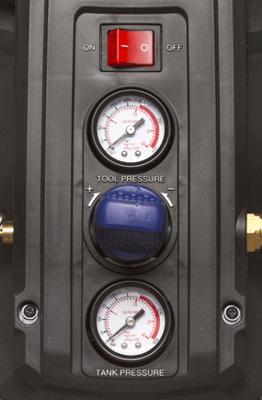 Tool Pressure regulator knob stripped/broken model 0300841. The tool pressure knob is stripped or broken. When you try to increase tool pressure, the knob just spins. Can't find a replacement anywhere.
________________________________________
Regulator knob model 0300841
by: Bill
Clint you will have to remove the cover from the panel (I've uploaded a photo) and you should find that the regulator is a relatively standard mini-regulator that you can purchase in many locations.
You'll have to disassemble the discharge piping to get it off.
Expect that the new knob will look different but the regulator will work the same way.
Make sure you install the regulator in the right direction. The arrow on the body points to the discharge coupler, not the tank.
__________________________________________
Kobalt Regulator
by: Anonymous
I have the same problem and when I removed the regulator, I find it is actually cast into the manifold. I can't find a replacement that will fit back into the mounting bracket. Do you have contact information for Kobalt where I can ask them for the part. I found the part number in the manual. Compressor Model #0300841; Regulator part number WCFATY.02.07
Thanks in advance for any help you can offer.
_______________________________________________
Replace manifold
Yup, the cast manifolds are hard to find for some models. This links to the page on this site now about how to build your own using standard parts.
_________________________________________________
Kolbalt Regulator Issue
by: Anonymous
I just ran into the same problem today. Does anyone have the model number or place where I can buy a new regulator that will fit in this assembly?
_____________________________________________________
Pressure regulator issue.
by: Anonymous
You can find the part number in the owners manual and the model number. Here they are. MODEL 0300841
PART NUMBER WCFATY.02.07
HERE'S THE THING THOUGH. THEY ARE USELESS. YOU CAN'T FIND Anyone who sales them anywhere. I bought my compressor at LOWES. IT'S AN 8 GALLON 150 PSI HORIZONTAL AIR COMPRESSOR. P.O.S. WHY MAKE SOMETHING WITH THIS POORLY OF CRAFTSMANSHIP. WHILE IT WAS WORKING IT WAS GREAT. JUST TURNING THE KNOB SHOULDN'T BREAK IT.
________________________________________________________
Kobalt Regulator Knob – chronic problem
by: Bob
I have purchased 3 of these Kobalt 8 gallon air compressor's. I don't use them that frequently. Sometime I may go months before I use it.
Two of the three units have had the regulator knob break and just spin. The first time I returned it to Lowe's and they replaced it without questions because it's their brand.
Just last week I returned the second one and they refused to take it back and replace it. I am going to purchase a new knob and replace it.
However, as I told the folks at Lowe's, there is a Orange and White colored store just a 1/4 mile down the road that would love to have my business.
Purchased a Husky brand from the Orange and White store on Sunday. I have been a Lowe's loyalist for years but would not recommend buying this Kobalt brand of air compressor for the reasons I have shared.
---
Got a question?
If so, do add it here, and please upload some photos focusing on the problem area?