A common problem for Kobalt air compressors is them not being able to stay running. Therefore, this article will provide you with the 5 most likely reasons as to why your Kobalt air compressor won't stay running, along with existing reader questions and responses related to the issue.
Table of Contents
5 Reasons Why Kobalt Air Compressor Won't Stay Running
It's possible you might have to face an issue with your Kobalt air compressor not staying running, where the power light is on, and it may seem like the air compressor is on, but, the Kobalt air compressor will not be working and there will be no pressure in the air compressor.
This is a simple error that might be caused due to some sort of electrical problem. Here are the 5 most likely reasons why your Kobalt air compressor won't stay running:
Faulty wiring
Use of an extension cord
Leaks
Faulty capacitors
Compressor overheating
1. Faulty Wiring
Inspect the wiring of the compressor to see if it's the problem. Once you have figured out all the wiring issues, if there are any, and have ensured that the plug is in properly, you will need to press the reset button on your air compressor and hopefully, that will solve the problem for you.
2. Use of an Extension Cord
If it is using an extension cord, they tend to have insufficient power, therefore, your Kobalt air compressor won't stay running. If you must use an extension cord, make sure it is made specifically for this kind of application.
3. Leaks
Check for an air leak, an oil leak, or a broken part. In some cases, you might have insufficient pressurization or airflow because of these.
4. Faulty Capacitors
Check the run capacitor, if it is failing during running after the start capacitor gets the compressor going. If this keeps tripping, causing the motor to shut off, you will likely need to replace the run capacitor.
5. Compressor Overheating
Check for signs of the compressor overheating, meaning that the thermal overload is tripping and the compressor is shut down to protect the motor, allowing it time to cool down. Visit our Air Compressor Reset Button Always Trips – Air Compressor Keeps Tripping Overload guide for more information!
Reader Questions & Responses
Kobalt Air Compressor Won't Keep Running – Kobalt Air Compressor Troubleshooting
Question
I have a Kobalt 22 gal 1.3HP compressor with the digital readout screen that was purchased about 3 years ago.
Recently when the compressor is turned on it will start for about a half-second and then stop. It then sits for about 5 seconds and then starts again for about a half-second – it will do this endlessly as long as I have it turned on.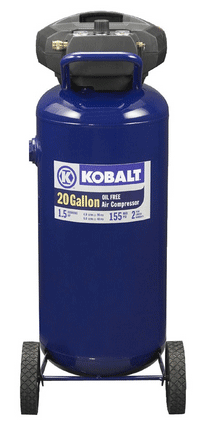 Also the same time this "cycling issue" started I noticed the regulator setting would not give a readout higher than 30PSI (compressor is rated and previously went as high as 155PSI)- regulator and tank pressure both show 30PSI.
My compressor has always been plugged directly into the same dedicated outlet (15A with no other draws on that circuit).
Any thoughts as to what is causing the problem and how to remedy it?
I have a large 80 gal 2 stage IR, but I really would like to get the Kobalt working again as it was nice and portable for outdoor work on our farm with decent CFM flow.
Response
I am not a big fan of how manufacturers have taken a fairly simple concept and made it complex. The digital screen on this Kobalt is one such.
While I cannot be certain that this is the issue, others have reported on problems with the digital regulators and controls. If this is down, and the digital pressure reading of the compressor tank is what's turning the compressor on and off, then this may be your problem.
Consider removing the shroud and digital controls, and install and standard pressure switch and a manual regulator at a cost of about $50 plus time. At least, this is what I would do if I had a digital junk box like this one might be on which the electronics had failed.
Questioner
My Kobalt Model 215914 gave the identical symptoms. Thought it was the programmed control board.
Turned out the brushes were bad in the motor. (Don't believe there are replacement brushes and rebuild would be a pain if even possible) The motor/pump are all one unit and runs for about $200+. My unit was rarely used…I agree with Bill, new tech has made things more difficult.
---
If you have any questions regarding Kobalt air compressors not staying running, please leave a comment below, with a photo if applicable, so that someone can help you!