Hey! This site is reader-supported and we earn commissions if you purchase products from retailers after clicking on a link from our site.
Got the compressor patent, that's all I got pat. No is 4065237 and on the side it's got E157c and then an H with a circle around it, says Pete from St. Paul, MN USA.
Paula writes in response… I did look up that patent number for you and it is assigned to Scott & Fetzer Company, filed December 27, 1977. It is described as "valve apparatus for expansible chamber". Didn't check out the "H" yet.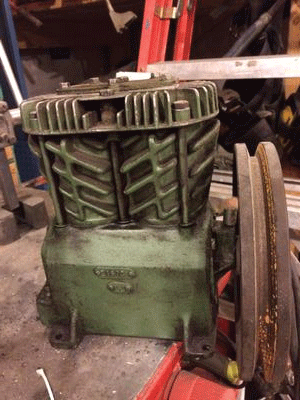 ____________________________
CH
by: Roger
This is a Campbell Hausfeld VT series pump.
_____________________________
Air compressor
by: Pete
I need the little flappers under top side of head
______________________________
Little flappers
by: Bill
Assuming you are asking about the compressor in the photos, and the flappers your refer to are the valves, you can either contact Campbell Hausfeld, or, make your own.
How to make your own is covered on the page on this site linked from the sitemap page. Scroll down the list to the page you want.
Good luck.