by Kristen
(Port Huron, MI, USA)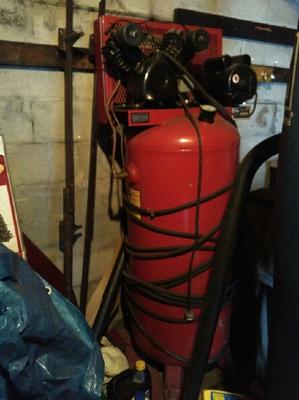 It's a 60 Gallon, 5 hp, 208-230 volt, 15 amp, 3450 rpm, 1 PH, MagneTek Century AC Motor, Serial # 595148. Unknown age.
____________________
BRA516VS
by: Doug in s.d.ca

Value depends on whether you find someone who wants a snap-on air compressor.
Does it get to 175 psi OK?
_____________________
Thanks
by: Kristen
Last time it was used yes, currently not being used. So, the value is up to the buyer, hmm. I just wanted to know the general value. I know people will have an opinion of what they personally value things at being above or below the actual value dependent upon what they're willing to pay. I just can't find this model online to get an accurate current resale value, yet.
______________________
Big Red Snap On Compressor Value
by: Bill
If you scan used compressors for 5 HP unit on 60 gallon tanks, you'll get a sense of what they are worth.
Doug's point about does it hit the normal cut out is important. Any buyer will want to know if the compressor gets to cut out, and then restarts properly when the cut in pressure level is reached when air is used.
You can, if you look, find new 5 HP air compressors on 60 gallon tanks for under $1,000. A good used one might fetch half of that?
______________________
BRA516VS
by: Doug in s.d.ca
Depends on whether you're just getting rid of cause you don't need it or if you need some cash.
If the former, maybe try 5 or 600 OBO and see what response you get.
---
New comment? New question? Please add it here along with photos to help others help you with your compressor and equipment problem!