by Mark N
(Apopka FL USA)
Please help identify this Rand 4000 80 gal 2 stage 5 hp compressor. I need help to get a model number so I can get a manual parts and specs.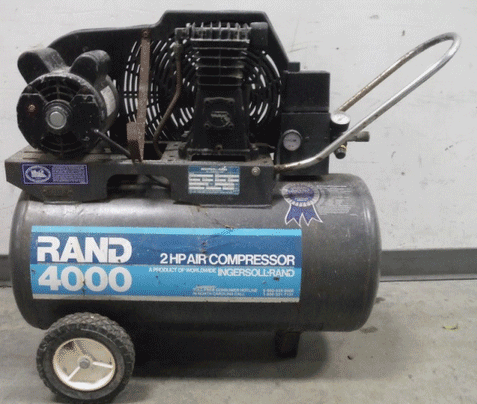 Thank you for your help in advance.
Mark
________________
Rand
by: Doug in s.d.ca
Might be a DeVilbiss Z-ABP-459. There are a few revisions of it, so may not be easy to pin yours down.
__________________
Found the info to share!
by: Mark N
I finally got a hold of IR today and the tech sent me the manual for it.
It is a T20580V and another source I narrowed it down to the pump is a CA5 the manual shows the CFM output of 19cfm at 100 psi which is close to the math I did with the calculations on this site.
My figures where about 21 to 22 cfm timed from 100 to 120 psi in 53 seconds.
So all in all its still in good shape for 30 years old. So far it only needs a crank bearing on the pulley side of the pump as it is vary noisy will pick that up tomorrow. It may still need rod bearings but won't know till I quite the crank bearing down… Thanks again for your help.
__________________
Rand
by: Doug in s.d.ca
Excellent!
Thanks for the update.