It was a free compressor but I don't know what make and model it is.
by Brian
(Louisiana)
I was given an air compressor free, it needs some repair but I don't know what make and model it is.
This air compressor has two cylinders, I believe the motor has been changed out.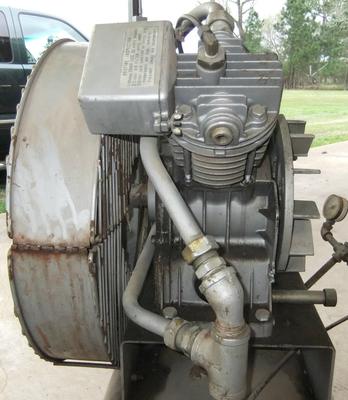 There is no data plate on the compressor, there is a data plate on the tank. The infomation is as follows:
NAT'L B.D. 81862
certified by
Melben Products Div.
The Scott & Fetzer Co.
Leitchfield, Ky. 42754
MAWP 200 PSI Temp 450 Degrees F
Yr 1984 S/N
SH .166 HD .133 RAD 2:1
GRN H2382.54
The intake filters are square, one is broken off, the pressure switch is missing, the motor needs to be replaced.
If someone could help with identifying it, I could order some parts for it.
____________________________
older, free air compressor
by: Richard in Long Beach.CA
Your compressor sure looks a lot like my 50's Hallett Compressor manufactured in Los Angeles
_____________________________
Scott and Fetzer
by: Anonymous
Scott and Fetzer usually implies the compressor is some model of Campbell Hausfeld. Tanks badges are usually irrelevant to the maker of the actual compressor head, but Scott and Fetzer was (is?) the parent company of Campbell Hausfeld.
____________________________
I have that compressor
by: Robert
Ours is your match. Motor just went out but compressor is otherwise fine. Where are you located? Maybe we can work something out. Contact me at two-1-four eight-62-one256.
______________________________
It's a Melben compressor
by: Anonymous
the compressor was manufactured by melben products. The company was bought up by campbell hausfeld. I have a smaller one, You would be better off to swap. I don't think there are parts available.
---
New comment? New question? Please add it here along with photos to help others help you with your compressor and equipment problem!