by Joe Masse
(Yuma AZ. USA)
Need a gasket that goes between regulator and pressure gauge assembly an the pressure switch.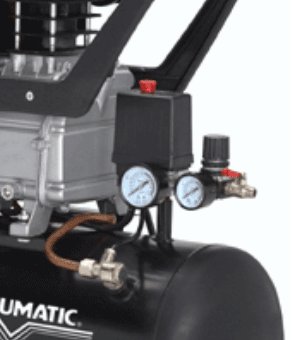 Do I need to change the entire assembly?
________________________
Central Pneumatic 95386 regulator assembly air leak
by: Bill
Joe, I've uploaded an image of the area on the 95386 that shows the regulator and the pressure switch.
I don't have one in front of me, however, your question suggests that the nipple from the regulator doesn't thread into the base of the pressure switch, but that there is some sort of gasket?
Never heard of that.
This were my compressor I'd remove the regulator assembly, add a nipple between it and the base of the pressure switch, thread the regulator onto the nipple.
Then I would and add a checked coupler, the same make as your connectors, where what I see is a small ball valve is on the right of the regulator in the photo above.
Or, am I missing the boat entirely about your question? Please advise.