by Mike Kotan
(Kingman AZ USA)
Have looked all over the unit and the only number that may be a serial number is listed as FN# xxxxxxxx, Could the 8 digit FN number be the serial number?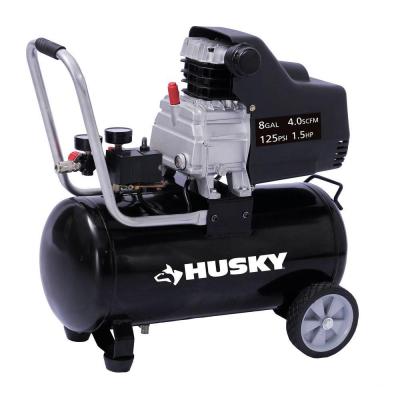 I have called Husky's 800 number and they could not help me.
_______________
Wait a minute. You called the Husky compressor help number and they couldn't tell you where the serial number on their own compressor is? My goodness!
I guess I would have to decide what part you wanted the serial number for, Mike. It is likely that they do not have a serial number for the whole assembly. If they are typical, these compressors are assembled from parts that are supplied to most of the other brands of air compressors too, and as such, you would look for the part serial number as opposed to the whole asssembly number. Make sense?
What part(s) are you trying to find?
____________________________________
Serial Number
by: Mike
I just purchased it new from Home Depot (HD) and I would like to add it to my household inventory list for insurance purposes. Is it possible that the 8 digit 'FN' Number is what they refer to as the serial number?
What even makes this more interesting is that when I purchased it (sealed carton) and brought it home and opened it much to my surprise it was previously opened and resealed by someone and sold as new at HD. The unit already had the oil in it and the bolts that affix the wheels were missing along with the users guide. I did call HD and report this to the store manager who suggested I return it but the HD is not within a few miles driving distance, maybe I will have to schedule another day trip to my local HD when time allows.
Mike
______________
Mike, what I do for insurance is take a digital photo of the item and add it to a file on the computer. But then, you have to have a backup off premise so that if the computer goes missing, you don't lose your files.
So sure, use the FN number. As long as you've got the bill from HD to back it up.
I, too, live a long way from my local stores, and it irks me no end when the cost of providing service to new items I buy is downloaded to me, making me drive the long distance to get to the store.
I am also thinking that the FN in the number might stand for fabrication number, and if so, would call up a b of m for all parts used to assemble this air compressor. I cannot understand why this info isn't available from Husky, unless the FN number is of HD's making, in which case, Husky would have no idea what that was… still, they should be able to help.
Good luck with this.
---
New comment? New question? Please add it here along with photos to help others help you with your compressor and equipment problem!