My resurrected Devilbiss 44633 purrs like a kitten!
by Terry
(Salt Spring Island)
A friend sold me this bit of a pig-in-a-poke old DeVilbiss air compressor but it sure paid off.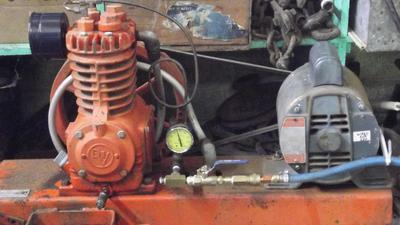 It's now purring like a kitten, the only audible sound, the blip/blip of the valves.
It had no compression until i soaked the valves with Amsoil penetrating oil.
I had my fingers crossed that the rings and valves were still serviceable. I think that the valves might be stainless like the current Heavy Duty Industrial models.
Spent half a day trying to put the old corroded stop/start switch back together. I put a big 4 prong Dryer plug on it. Peter had a brand new one with pigtail at our recycle depot. He saves one of each prong type of dryer plug that comes in.
On the workable, but downside, the motor is super loud like a gravelly roar because it needs bearings. I'll probably replace the bearings later. I picked up another Speedaire compressor for parts and lucked out because the 2 HP motor works fine.
The interesting thing about this Devilbiss model is that it wasn't designed by Devilbiss with a pressure switch.
Instead, when it reaches 120, the tall valve behind the pressure gage, opens and sends air to the pump valves through those copper lines and that UNLOADS the valves (holds them open) and the compressor pump then just freewheels until the pressure drops and the pump cuts back in.
It must have been that continuous running that did the motor bearings in. Some other big electric motors like this have oiling holes for the bearings.
I may convert it to the off/on pressure switch type of compressor later, but as it is it makes for a good painting compressor.
The compressor pump is rated Heavy Duty Industrial — music to my ears!
As such it has stainless valves and a pressurized oiling system so the replaceable shell bearings etc., are pressure fed like in a car. That's what separates the industrial pumps from the Stand Duty Industrial ones.
I'm so glad it had a very good air intake filter when used and then stored for years!!!
I totally restored the filter. It was de-rusted, primed and sprayed with teal blue automotive lacquer while I was doing the interior parts of my truck that same color.
I love the classic, mellow yellow look of the made-in-Anaheim pressure switch!
I now know what any make any future compressor choices will be.
DV Systems, formerly DeVair (Devilbiss)
Cheers,
Terry
_________________
Thanks for the excellent post, Terry, and the photo of your new "baby".
Typically it's easier on motors to have them run continuously than start and stop, as long as they are built for it and, as you point out, if they have a lube port, they get the odd drop of oil every now and again.
_________________
Oil capacity for 44633 ?
by Terry
(Salt Spring Is.)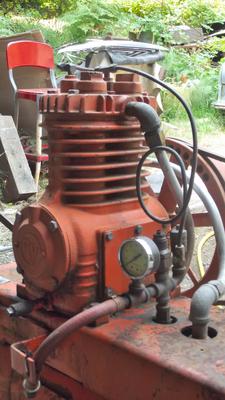 44633 Devilbiss air compressor pump
Anyone know the manual specs for the Devilbiss 44633 oil capacity — great pump!
Thanks,
Terry
---
New comment? New question? Please add it here along with photos to help others help you with your compressor and equipment problem!