Husky ran low on oil and locked out?
by Amir
(VA / USA)
Has 10 hours of work on it, almost new. A 30 gallon, 2 HP Husky – it ran low on oil and by the time I arrived from the opposite side of the shop (2 minutes, max), it had locked out. Very unforgiving!! Is there a fix or is it pretty much good for the parts now?
---
Amir, after you have added oil, did you hit the motor thermal overload reset switch?
If you did, does the motor try to start or not?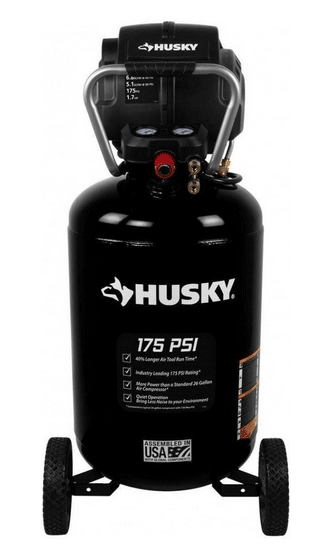 A consequence of running a reciprocating air compressor that is low on oil is heat build-up. This has the potential to warp metal, friction-bind moving parts, and overload the drive mechanism and electric motor.
If the motor failed completely then you will need a motor rebuild or a new motor.
If the motor tries to run and cannot operate the compressor pump, that would suggest an overheat in the pump to the point where parts have seized.
I cannot tell from here whether the Husky air compressor is salvageable or not.
---
New comment? New question? Please add it here along with photos to help others help you with your compressor and equipment problem!