There are probably tens of thousands of Ingersoll Rand P185 tow behind air compressors in use and for sale around the world. This article will provide you with all the relevant information on Ingersoll Rand P185 town behind compressors.
Table of Contents
Ingersoll Rand P185 Tow Behind Compressor
I have not been able to get any specific information on this venerable compressor from IR, except that it's a portable compressor – being that it's a towed air compressor – and that it's designed to provide 185 CFM of airflow when running optimally.
It appears as though Ingersoll Rand is no longer selling portable construction compressors, preferring to manufacture and sell construction equipment like jackhammers and what not as well as industrial air compressors.
We understand that the portable construction compressor business was sold to Doosan Portable Power. If you have information confirming this, we would appreciate an update via the comment form below.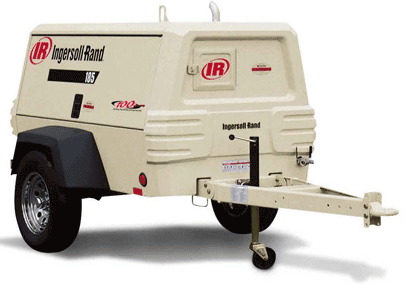 In the absence of troubleshooting information for the P185 family of Ingersoll Rand compressors, I am providing a forum here for users to post questions and respond if they can.
Have a look, add your question here about the Ingersoll Rand P185 tow behind air compressor, and if you can help another user with some knowledge or advice, please add a comment.
All IR P185 compressor users, and me, say thanks,
Ingersoll Rand 185 and P-185 Tow Behind Air Compressor Manuals
Just in – Ingersoll Rand 185 manual.
And a big thank you to Doug from S.D.Ca for this P-185 parts manual.
Feel free to download either to your computer.
Have an issue with your Ingersoll Rand (IR) P185 tow behind air compressor?
If you scan the existing postings below, you may find an answer already there. If not, scroll to the bottom of the page and add your question.
Can you answer one? Please leave your advice as a comment on any of the existing postings about the IR P-185 air compressor.
Thanks from all of us.
Ingersoll Rand Tow Behind Portable Air Compressor Troubleshooting
Existing Ingersoll Rand P185 tow behind compressor pages:
---
If you have any questions regarding Ingersoll Rand tow behind compressors, please leave a comment below, with a photo if applicable, so that someone can help you!