An overheating Ingersoll Rand air compressor typically comes down to one of several factors. If an Ingersoll Rand air compressor is overheating, something is definitely not right, and you must diagnose and fix the problem pronto. This article will provide you with the reasons why your Ingersoll Rand air compressor is overheating, and what you can do to prevent this from occurring.
Table of Contents
Reasons Ingersoll Rand Air Compressor Overheats
If your Ingersoll Rand air compressor is experiencing overheating, it is likely due to any of the following:
Low suction pressure or excess discharge pressure
Insufficient or eroded oil
Old or clogged components
Defective thermal valve
Ambient temperature inadequate ventilation
Type of air compressor & frequency of use
Low Suction Pressure or Excess Discharge Pressure
One of the most common problems that will cause an Ingersoll Rand compressor to overheat is having a high compression ratio which is a result of low suction pressure. Another issue is excess discharge pressure. To keep suction pressure and discharge pressure levels under control, you must inspect components frequently for any signs of issues.
Insufficient or Eroded Oil
When oil becomes old it will typically begin to erode and harden, resulting in the interior parts of the compressor system moving without sufficient lubrication. This is the same if you have insufficient oil within the system. As the moving components wear down, you will typically need to replace the oil at more frequent intervals.
Old or Clogged Components
Components of an air compressor will naturally wear down with age, forcing the system to work harder to complete its basic function of providing compressed air to your end-use. They need to be monitored and replaced when suitable.
Defective Thermal Valve
A defective thermal valve can easily lead to heating issues with your air compressor. It's recommended to have a replacement thermal valve on hand in case the preexisting valve on your machine needs to be changed out at any point, and also to act as a comparison to know when the other is faulty.
Ambient Temperature & Inadequate Ventilation
Ambient room temperature is something you should always keep in consideration with air compressors. If the air compressor is located within a warm area, the machine is liable to have far more difficulty adjusting to the incoming air at its desired levels of coolness.
On top of this, comes ventilation. Is the air compressor able to sufficiently ventilate? If the air compressor is placed in such a way that the vents are facing against a wall directly, the air compressor should be turned or possibly moved to another area.
Type of Air Compressor & Frequency of Use
It's important to note that some types of air compressors are more suited to high-demand tasks than others. If you are running heavy-duty pneumatic tools for extended periods of use from a small air compressor, you will likely run into performance issues that will result in the air compressor overheating.
The frequency of use of the air compressor is going to contribute to the amount of wear and tear that an air compressor system experiences. The speed of the wear and tear depends on the length of time the compressor is operating at temperatures.
To be able to combat your Ingersoll Rand air compressor overheating, you should seek to:
Improve ventilation
Monitor ventilation
Inspect oil level and filters regularly
Replace parts when necessary
For more detailed information on an air compressor overheating, visit our guide here!
Reader Questions & Responses
Ingersoll Rand Air Compressor Overheating
Question
Got an Ingersoll Rand 375 air compressor that keeps shutting down when we are blasting on it.
It's overheating to the point that it starts "peculating" the coolant back into the reservoir tank.
A couple of days ago I purchased a new thermostat.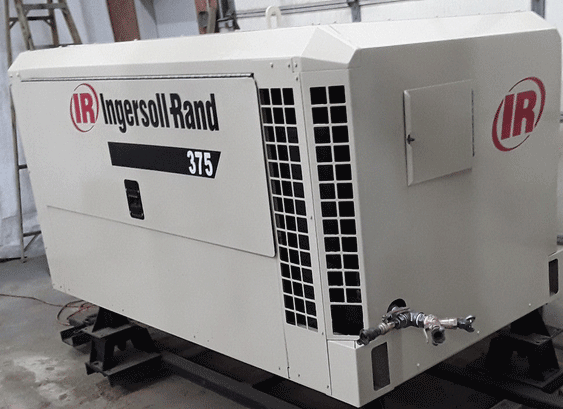 Before installing it, I pulled the old thermostat out, reinstalled the housing, and completely flushed the system out. I then added a radiator flush solution and ran the engine for the recommended time, then flushed out the system again.
I installed the new thermostat and ran the motor at idle for a couple of hours, not under a load though, because I took it out to the field "Chevron oil lease" and started blasting on a pipe for about 20 minutes and it shut down on me.
I pulled it back to the yard and it's been shutting down on one of my guys all day today.
Read something about the orientation of the thermostat being installed backward at the factory. Does anyone hear of this??
Also what is the recommended type of coolant, local John Deere dealership only will tell me to "go ahead and come on in, we got it right here" But I have both kinds here.
Thanks
John
Response
Tried running w/o the thermostat? I doubt you need it in Bakersfield unless maybe you work at night.
As to the coolant, maybe you can go by the store to see what they try to sell you…
I suppose you've already verified that there is good flow thru the radiator – and that the coolant pump is working?
Check that the radiator cap is pressurizing properly.
Questioner
Pressure washing the radiator worked for a while but as soon as the heat wave hit this year it started doing the same thing. I'm removing the thermostat on the compressor side today and changing out the oil filter. I'll comment on the results as soon as I can.
thanks
Questioner #2
Having the same problem. Did you ever figure yours out?
---
If you have any questions regarding Ingersoll Rand air compressors overheating, please leave a comment below, with a photo if applicable, so that someone can help you!