I have an IR5E6VA won't go past 80lbs, is there a pump replacement?
by James
(Kansas City, MO)
I bought this back in 1987 and it has worked fine. Only replaced the pressure switch for regulation. Now it will not build up past 80lbs and oil was slightly running out of the fill plug but it was hot so I suspect it was thinner and just escaping.
Is there a replacement pump that will bolt up to this compressor?
Specs:
5HP, 230V 1PH
Pump Speed 2000 RPM
60 Gal tank
Model IR5E6VA
11.0 CFM @ 90 PSIG
12.5 CFM @ 40 PSIG
Serial Number: DC87169-13377-0160
Number on back of pump: 3EN00453
________________
James, I am happy to post this for you in the hope that someone can advise about the availability of a pump for your IR compressor. I cannot find any information on this model of Ingersoll Rand at all.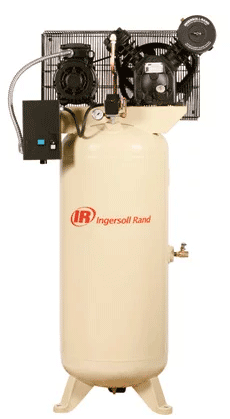 However, are you sure it is the pump? See the troubleshooting section on the site map, and follow the link to the pages about why air compressors run and won't build pressure. It could be any number of other things than a failed pump.
___________________________
Is your compressor on the recall list?
Anonymous
"So I called Ingersoll Rand this afternoon to inquire about ordering a new check valve for my compressor. I bought it new in 1987 and have kept it in pristine condition. It's a 5HP single stage 60 gallon. She was unable to find the model number in her database (IR5E6VA), but she was able to find the serial number series (DC8704- XXXX). She said, "oh those are the subject of a recall … She said she thinks the recall involved the welds on the tank. " From www.garagejournal.com
____________________________
Additional Info
by: James
Years ago when I had an issue I replaced the reeds in the head and that fixed the problem. I took off the head to inspect the reeds and they are good.
I put it back together and pulled off the Oil Fill cap and put my thumb over its hole while it is pumping. The result is the case is being pressurized and so I suspect the issue is the piston rings.
This compressor is obsolete and only a few repair kits are available.
I think a better solution is to bolt on a new pump if not a Two Stage pump. The motor, tank, and pressure switch work fine just need a pump that this 5 HP 3450 RPM motor will spin.
Question: If a new pump comes with a wheel attached does that mean it has been sized to spin the pump at the correct RPM?
_______________________________
Wheel
Bill
If you mean the pump sheave, cycling of the pump will be affected by the motor sheave speed and size. You'll need to determine the optimum cycle of the pump, and then size the motor sheave to accomplish this, or, change the pump sheave to match the existing motor sheave, whichever is easier.
_______________________________
Pump Speed
by: James
If I mount a replacement pump should I size the pulleys to run near or at the max pump speed?
For example my pump motor pulley is 6″ with a 11″ pump pulley, if I replace the pump that has a 13.8″ pulley should I reduce the size of the motor pulley?
---
New comment? New question? Please add it here along with photos to help others help you with your compressor and equipment problem!