Hey! This site is reader-supported and we earn commissions if you purchase products from retailers after clicking on a link from our site.
by Jack Gualdoni
(Hampshire, il 60140)
I have a Central Pneumatic 29 gal oil lubricated compressor and when it tries to start when the pressure in the tank is about 120 lbs it will not start and trips the breaker in the motor. I have tried to move it to different circuit of 20 amps and the same thins happens. If I drain the tank it starts ok and comes up to the 140 lbs when it shuts off. I don't know if I can rewire the motor to run on 220. Any advice you can give me will be appreciated.Thanks,
Jack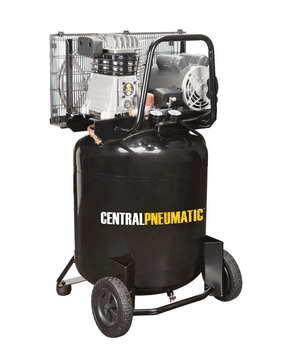 ____________________
You'll find that this question is frequent on this site, and is already covered in detail in the troubleshooting section, Jack.
I doubt there will be a need to rewire your compressor motor to 220 VAC.
Please see the pages about why air compressors pop breakers, and also, check out the page on unloader valves as well for some more tips about this common compressor issue which, I surmise, may be the compressor issue you are facing. Not much point in typing all the info from those pages here, so please have a look, and add a comment if we can help further.
---
And … A Brand new CP compressor will not start
Central Pneumatic 3 Gal Oil less Compressor.
Started fine yesterday (brand new) will not start today and when I push the restart button it keeps blowing the breaker.
___________________
About your CP compressor will not start, Please empty the tank completely and try again. Same scenario?
Using an extension cord?
Did you follow the break in steps?
A bit more info would be useful, however, if it's brand new, and it won't start with no air in the tank, it were mine, it would be on it's way back to the store to be replaced with a new one.
---
A Central pneumatic 3 gallon compressor wont start
by Bryan Sawyer
(Red Oak, Tx 75154)
Purchased new, with no issues.
The compressor was being used to paint my son's room. Its a 3 gallon compressor and has a max rating of 110 psi.
In the beginning it wouldn't fill correctly to its max potential. I took the cover off and looked around to find the fill line was cracked. I replaced it with 4500 psi fittings and hose rated for heat.
It filled for 3 months and then cut out when I was doing work outside.
I live In Texas, but heat wasn't a factor that day. Everything looked fine when i looked under the cover, and my fuse is good.
I uncapped the rear of my motor and have found black dust everywhere. (Like a screw was being stripped).
I am reaching out before I go further because I am X military and know that the ramifications of my actions could kill whats possibly salvageable in this motor. Suggestions?
Bryan Sawyer
____________________________
Black Dust?  by: Doug in s.d.ca
Most likely the dust is what's left of the motor brushes.
It's doubtful you'll be able to get replacement brushes, especially if you got it at HFT.
However, you may be able to find something suitable if you can figure out who made the motor, and the armature commutator isn't FUBAR.
First thing is to get the brushes out. They may be press-fit in holders.
If you can see what I'm talking about, pix might help.