A common problem with Kaeser air compressors is Kaeser compressor fault codes. This article will provide you with some useful information on compressor error codes, along with existing reader questions and responses about Kaeser compressor fault codes!
Table of Contents
Reasons Kaeser Compressor Shows Fault Codes
In the event of a system fault, the Kaeser compressor will display a fault code in the user operational display menu. If there is more than one fault code active, each will be displayed as separate items in this operational display menu; they're as simple as pressing up or down to view.
The fault codes displayed on the Kaeser air compressor should be separated into unit faults (ERR/ERROR), and system alarms (SYS/WARNING). When the compressor displays a system alarm warning, the conditions are automatically reset when the condition has been resolved and reset on the compressor.
When the compressor displays an error or shutdown, the conditions of the error will automatically reset once the condition has been resolved and the air compressor has restarted, working with no issues.
It's common for the fault codes to be separated by some regarding a problem or error with the controller itself which prevents normal operation of the compressor, and system faults that occur externally from the controller and with the compressor.
The Kaeser compressor fault codes will likely show their errors in two different light patterns. The fault LED will flash slowly to indicate an alarm warning condition where the compressor is continuing with the normal operation but user attention is required still.
If the fault LED flashes fast it will indicate a trip condition where the controller will stop the operation of the compressor, until the conditions of the error are resolved.
Typically the fault codes are labeled with unique numeric codes which can then be understood from the user's manual for the specific Kaeser compressor.
Additional Kaeser Pages
Reader Questions & Responses
Kaeser Air Compressor Fault Codes – Kaeser Air Compressor Troubleshooting
Question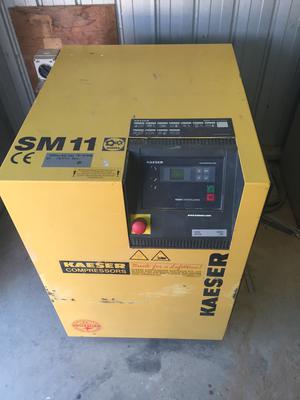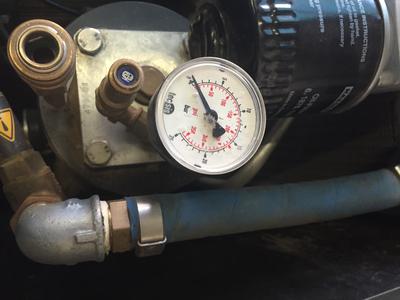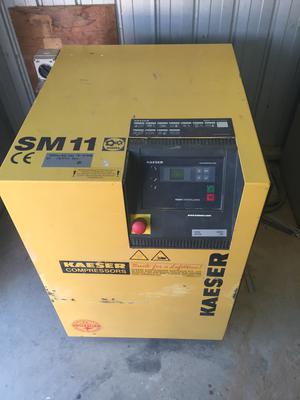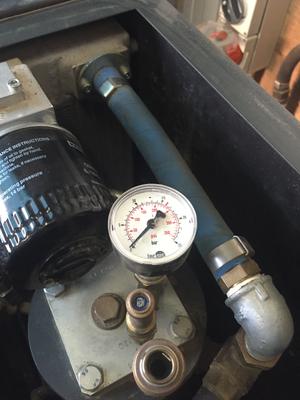 Response
Actually, thinking about it, I can't see the number on the bottom line of the screen? What number or letter is it showing when you turn the power on?
Response
Hi again,
Thanks for the photo. Sorry, I may have misunderstood, it looks like, as you said, the backpressure fault is as soon as you turn the power on, not when you press the start button. I can see on the screen of your Sigma basic controller the bottom line is illuminated.
Does it let you reset this by pressing the reset button (the reset button is the red "Stop" button) if it doesn't let you reset then I haven't seen that before, are all the electrical connections in properly? The connection into your vent valve? (Brass component attached to the separator with a hose going to the air filter) if all these connections are ok then you may have a problem with the controller itself which could mean you may need an HPC engineer to come along to look at it to "K-load" it which means taking all software off and putting back on again. Or a new controller.
Let me know how you get on
Carl
Response
Hi,
I'm guessing you have a sigma 1 controller fitted and it has the words "backpressure" on the screen as opposed to a number on the bottom row of the screen as you would with a sigma basic controller?
Either way, the backpressure error is indicating that you have pressure in the separator tank (where the oil is).
Do you have a pressure gauge on this tank? If so then it should read zero on startup.
Attached to the separator tank is a combination vent valve where you should find a little ball valve that is used for keeping pressure in this tank and firing out the oil when you have an oil change.
Check that this valve is open or you will get the back pressure error.
Secondly, inside that brass vent valve I mentioned is a rubber diaphragm, it has been known for this to inflate so will not let the separator vent, replace the diaphragm (it comes in an intermediate service kit along with an air filter, oil filter, and filter mat)
Finally, again with the vent valve, do you have an electrical connection to it? Make sure you have voltage going to it?
How old is your machine? If you could post a few photos of the machine and the vent valve/separator it would help a great deal.
Try all the above and reply to this post to let me know if it fixes it.
Many Thanks
Carl
---
Kaeser Compressor Critical Error – Kaeser Compressor Troubleshooting
Question
Critical error code 300A on Kaeser compressor.
What is this error code and what does it mean?
Response
Hi,
The Critical Error on the Kaeser's Sigma controller means there is a software error on the actual controller, the compressor itself is all fine but your controller is no longer used which means it needs replacing.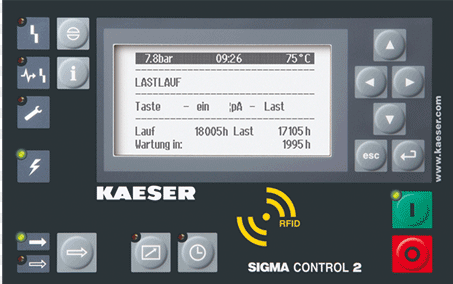 Sometimes you can turn the machine off at the main isolator for 5 minutes then switch it back on again and it will work for anything between 5 minutes to a few weeks, but it will come back, so unfortunately it does need replacing.
Be warned, these are very expensive depending on which one you have (Sigma Basic is the cheapest, Sigma 1 most expensive) you're looking at between £800-£2000 for replacement.
But check with your local HPC supplier. I'm in East Anglia in England. Whereabouts are you?
Sorry for the bad news but hope that helps
Carl
Question
Thanks for the information, Carl. I'm in Southern California. There is nothing else that can be done to fix the sigma control besides replacing it?
Thanks again,
Ron
Response
Hi Ron,
Your only last hope is getting what's called "K-loaded" by the manufacturer, this means the software is totally wiped and put on again. I don't know how much that costs but the critical error can still reappear at some point so it is a bit of a gamble. I get in touch with your nearest HPC distributor to see what they will do for you, obviously, they may just say buy a new one but ask about getting it K-loaded first. That really is your last option, unfortunately.
Having a critical error is really quite rare like I said but it can happen very randomly. One of the 3 I have seen in the 20 years of working on air compressors, happened whilst I was servicing it. Trying to explain to the customer that it wasn't anything I had done was a nightmare! You are one of the unlucky ones I'm afraid to say.
Response
Just make sure when you get a new control module that it is actually set up to work when it is installed. I bought a new one from an authorized Kaeser distributor under the understanding that it was set up and ready to go. We installed it but not only was the display in German (which I changed) But it needs a level 5 password to get it up and running. Not much chance of that as they want to send their service tech out and charge me about Eight hours of travel time plus the service fee. In retrospect, I should have scrapped the compressor and replaced it with something more user-friendly.
Response
the sigma controllers are notorious for the error message. we have seen probably about 10 controllers with the same error, it is a small relay on the controller that creates the message, unfortunately, Kaeser in their wisdom does not have an error on their machines so we are told…
Response
by: Carl
Hi again
Just to clarify, it is ONLY Sigma 1 NOT Sigma Basic or the Signa 2 that has the Critical Error issue.
The Sigma 1 controller is no longer made so you will be lucky to actually get a new one from the manufacturer.
Yes, you do need the level 5 code to set it up but if you have ordered one and have had it delivered from a registered HPC/Kaeser distributor then you should have given the compressor's details and it should have already been set up before delivery.
If it hasn't been set up properly then HPC should have asked you to either send it back or they should send an engineer out free of charge to set it up. They wouldn't/shouldn't send a raw controller out that hasn't been set up properly if they were a proper distributor
Response
I had the same situation myself where a Kaeser distributor sold me a controller that was not set up for the particular machine even though I had given the correct model, serial number, and part number.
It was an eight-hour round trip for this job so to say I was annoyed would be mildly put, especially when they said that they would need to send out the Kaeser technician to set it up and charge me for a whole days labor and travel for an item that I was assured was plug and play.
The other alternative was to return it but they said I would be charged a programming fee.
Needless to say, I did not go down that path and did some searching around until I eventually discovered the level 5 code and set it up myself.
It has now been working fine for a couple of years.
Response
Does anyone have the Pass desperate for it?
Response
11TTY or 3WW50 is level 7 in Australia it might work where you are.
Cheers.
---
Kaeser Compressor Fault Code – Kaeser Compressor Troubleshooting
Question
Hello, I have a Kaeser compressor mod. CS91 with SIGMA CONTROL and loading the update I get: CRITICAL ERROR
Please, do you get this error? Thank you very much.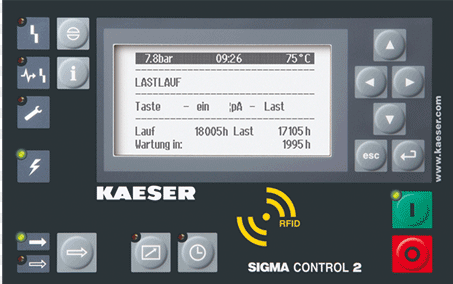 Response
I presume this error prevents compressor operation – Were there any symptoms prior to this?
Did anything happen to input power?
Are you trying to update the controller soft/firmware? If so, you'll need to work it out with Kaeser, sorry.
Response
Hi,
Having a critical error on your Sigma isn't good I'm afraid. I work for HPC (Kaeser.)
There are only 2 possible ways of getting rid of this, one being replacing the controller, and the other is getting it "K-loaded" which means getting Kaeser in to wipe the software and reinstall, even doing that isn't a guaranteed fix as it could possibly do it again.
Temporarily it sometimes works by turning off the isolator, leaving it for 20 minutes, and turning it back on again. But again, it will possibly do it again either straight away or soon after.
This fault wouldn't be because of your update, it can happen at any time, it isn't often that this happens but when it does, unfortunately, it is expensive.
Question
Mr. Carl, please tell me what you mean by "Change controller", Processor (intel KU80386EX25), or other components….?? please urgently answer me.
Response
The controller is the whole part where you turn the compressor on and off. The Sigma controller needs replacing. You need to contact Kaesar
Question
But Mr. Carl I am working on this, for repairing the PLC, I hope so I'll succeed. I need your help to guide me about this error, according to this error which component is faulty, today I replaced the Intel processor, but fault still same, its mean processor was ok, on display result are like this: check RAM:—OK
Check F memory: —- OK, replace the controller, critical error, tell me according to this, is software faulty? or any component?
Guide me, I will repair and tell you after any changing. Thanks
Response
There is only one way to fix this, you need to replace the Sigma Controller itself.
You need to contact Kaesar (HPC) and tell them all the details of the compressor (Model, Serial number, pressure settings, etc).
There is nothing else you can do I'm afraid.
---
If you have any questions regarding Kaeser air compressor fault codes, please leave a comment below, with a photo if applicable, so that someone can help you!