Hey! This site is reader-supported and we earn commissions if you purchase products from retailers after clicking on a link from our site.
This page will serve as a Kaeser air compressor troubleshooting forum, where any common Kaeser compressor issues are welcome to be discussed and fixed.
Table of Contents
Reader Questions and Responses
Kaeser Air Compressor Overheating and Shutting Down
I have a Kaeser air compressor overheating shutting off , is there a specific volume of air that needs to inlet and exhaust.
Its installed in a closed room.
Response:
There are a number of reasons why an air compressor will overheat.
I suppose it could be the shortage of intake air making the compressor work too hard, or lack of air circulation not allowing natural compressor cooling to take place. Try running the compressor with the compressor room door open to see if it makes any difference.
It is more likely that it is compressor related, and I would be looking into the air end as a possible heat source.
You don't provide any details of your air compressor (model / HP) so I cannot even check for technical documents about your problem.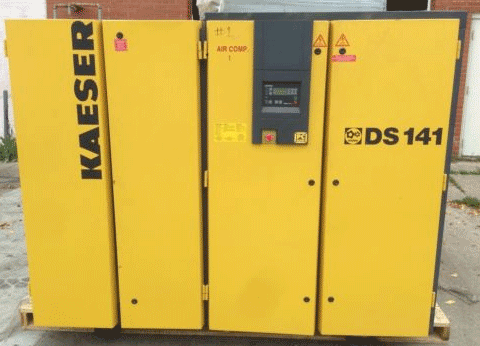 Other visitors will comment on this I hope, but I expect that you probably will need assistance from Kaeser to help you, wherever you are in the world.
---
Code 5 – Kaeser air compressor shutting down?
by BRIAN
(MED HAT AB)
MY AIR COMPRESSOR SHOWS CODE 5 AND SHUTS DOWN RIGHT AFTER START UP. IT IS TELLING ME THERE IS SOMETHING WRONG WITH THE DRYER. I CLEANED ALL FILTERS.
Response:
Brian, I don't have the compressor or the manual. I would expect that the manual would identify the remedial action for any maintenance code.
Anyone else know what Code 5 for a Kaeser is and how to correct the compressor fault?
Consider emailing them directly:
---
Model SM11 Running hot and shutting down.
by Fletch
(W. Henrietta, N.Y.)
Oil, oil filter, separator and filters are all new.
Compressor even runs warm when not loaded. Room temperature is in the low 70's.
Cooler completely clean and doesn't seem to be throwing off much heat. Maybe temperature sensor
is bad?
Response:
If it is actually running hot and shutting down, could be the air end bearings… or maybe a gazillion other things, Fletch.
Or, as you say, it could be the sensor if the compressor itself isn't actually running hot.
I can't tell from here?? 🙂
Further Kaeser Troubleshooting Pages
We have a number of Kaeser air compressor troubleshooting pages available on this site:
Kaeser sm 11 fault code of DM 1
Critical error code 300A on Kaeser compressor
Kaeser SM 11 back pressure error
---
If you have any Kaeser air compressor troubleshooting questions, please leave a comment below, with a photo if applicable, so that someone can help you!