This article will serve as a hub for all issues relating to Central Pneumatic air compressors not building pressure. It's a very common problem for Central Pneumatic air compressors, and so, this article will present the reasons why your CP Air Compressor may not be building pressure, along with past reader troubleshooting, questions & answers with their CP pressure building issues.
Table of Contents
Why My Central Pneumatic Air Compressor Won't Build Pressure
The most likely reasons why your Central Pneumatic air compressor won't build pressure are:
Central Pneumatic Compressor intake valve failing
Central Pneumatic compressor pump pressure valve failing
Central Pneumatic compressor gasket failure
Central Pneumatic compressor piston seal failure
Central Pneumatic tank check valve is compromised
How to Diagnose & Fix a Central Pneuamtic Air Compressor That Won't Build Pressure
Please visit our Why An Air Compressor Won't Build Pressure & How To Fix A Compressor Not Building Pressure guide for detailed information on each, along with how to conduct the necessary checks! If you're wondering why your air compressor won't stop running, we also have a guide on this!
Related Central Pneumatic Compressor Help Pages
Reader Questions & Responses – Central Pneumatic Compressor Won't Build Pressure
Harbor Freight / Central Pneumatic Air Compressor 3 Gallon Won't Build Pressure
Question
I used it pm, it is like new few hours use, I left it plugged in turned off valve, next am heard it running, opened garage noticed oil on the floor, unplugged pancake compressor.
I noticed there was no air in the tank. Now after I refilled the oil, it wasn't empty, The compressor works but the air won't build, It is like a safety pressure switch opened up, although the pop-off valve is working and is closed? Is there another safety? Or is there a component failure?
This is an oil-type pancake 100 psi unit I bought from Harbor Freight. Why did it spew oil? Did it seem to come from the fill tube? The compressor is compressing.
Response
Don, it sounds as though it might have overheated by running too long, and that higher heat might have caused the oil to spill out of the sump.
When you checked the oil, if it was almost full as you said, that wouldn't have been the problem.
You are on the compressor will not build pressure page. What checks did you perform to try and determine what has failed on your compressor? Surely, something has let go, possibly heat-related, and once you do the checks, you'll be able to better pinpoint the cause.
Question
Thanks for the response, although something blew air-wise first, then the compressor ran without enough pressure to trip the automatic shut-off switch, causing the heat and oil release. ? What component would release the tank and stay open? To cause the compressor to run all night? I checked the safety release and it is working as designed and was closed. Something in the box near the hose connection? The hose was intact so it wasn't a popped airline? I haven't looked into it any further, I was hoping for direct advice first. Can I use 30 weight ND oil for the compressor?
Response
An item that can jam open and possibly drain the tank too is the Unloader Valve. See that page for info on it. See the Oil Issues section on the site map page for info about compressor lube oils too.
67708 Central Pneumatic Air Compressor Won't Build Pressure
Question
I have a central pneumatic 21/2HP 10 gallons 125 psi air compressor model 67708 that I picked up used. I checked it out for obvious damage, disconnects, and leaks, all seemed fine. The oil has been changed as well.
The unit does not build pressure greater than 40 psi when it does run. Often it just shuts off with no regularity. I can hit reset and it continues to go intermittently. Central Pneumatic Air Compressor Not Reaching Cut-Off Pressure.
My question is, may I jump around the pressure switch a check for a faulty pressure switch? If so, which side of the switch is the input side, so says Tom K?
Response
You can if you have a working pressure gauge. Sounds like you do. Just follow the wires from the plug and there you are. If the thing has capacitors, check them.
Doug from s.d.ca.
Response
I found what I believe to be an image of the 67708 and uploaded it above for folks to see what type of compressor we're talking about. If this isn't similar to your own, please add a comment and upload a photo or two of your Central Pneumatic 67708 if you would.
Further to Doug's comment, I certainly agree, that you can bypass the switch with care.
The caution note is, that you must make sure you are monitoring the pressure continuously as you power the compressor with the pressure switch taken out of the circuit. The pressure switch is the "first line of defense" in terms of preventing the overpressurization of the compressor tank.
The "2nd line of defense" is the pressure relief valve, typically set about 10-15 PSI higher than the normal cut-out pressure setting of that pressure switch. If you remove the pressure switch from the circuit, the only thing that can prevent an overpressure is the PRV, and if that should fail, that could be a life-threatening situation.
So please, if you run the compressor with the pressure switch taken out of the circuit, watch the tank pressure gauge carefully and be prepared to shut down the compressor should the pressure mount be too high.
Now, if you removed the cover of the pressure switch and see where the power cord enters, note where the white and black lines in the cord are attached. These are the Line / Supply terminals of the pressure switch.
On the other side of the switch, you'll see where the cord from the switch to the motor is attached to the pressure switch. That side of the pressure switch has the Load / Motor terminals.
Removing the power cord and motor cord lines from the pressure switch terminals and joining like colors will allow power to flow to the motor outside of and bypass the pressure switch.
Do so with adequate care for live wires and to ensure that the compressor doesn't overpressure.
Central Pneumatic 21 Gallon Air Compressor Won't Build Pressure Over 60PSI?
Question
My Central Pneumatic 21 gal won't go over 60psi? Need some troubleshooting tips to help fix the problem.
Response
Assuming your compressor pump is working correctly, then the air that's being pumped by the air compressor is going somewhere?
One issue may be the intake valve leaks, with air being pulled in and then right back out of the same intake port. Test that by pulling the intake filter and feeling the airflow at the intake port.
Another might be a gasket failure, a leaking check valve, or…. why not look on the Troubleshooting page for the link to the pages that discuss the various reasons why an air compressor will run, but the air pressure won't build past a certain point?
After you have checked a few things, if you are still stumped, post a comment here. Knowing a bit more about your Central Pneumatic air compressor such as model, age, use level, and so on.
Central Pneumatic 21 Gallon Air Compressor Not Building Pressure Above 25PSI?
Question
The central pneumatic air compressor will not build above 25psi
central pneumatic 21 gals upright I have changed pressure valve add sealant to head of compressor still will not build air above 25 psi
Response
Jack, when you read the reasons why air compressors don't build air pressure, on the page where you added your comment, which of the things listed did you have the chance to check?
I don't want to cover old ground.
Please add a comment here telling me which of the checks listed you did, and we'll see if can help each other figure out what's going on with your air compressor.
It would be good to know the model number, how old it is, and if it's been used a lot.
Can you provide more info, please?
Central Pneumatic Compressor Won't Build Pressure and Shuts Off at 40PSI?
Central Pneumatic 2HP 8 Gallon air compressor
I have the Central Pneumatic 2hp 8gal compressor. I will turn it on and it will build pressure to 40psi and the circuit breaker on the side will trip and the compressor will shut off.
I can wait the 5 seconds and press the brass relief and it starts up and runs for about 3 seconds and shuts off again.
Out of the box, it did run to 120 psi but now it only will run to 40psi HELP!
Friend, I have a bit of a problem understanding what you mean by "wait the 5 seconds and press the brass relief". What brass relief is that, please?
As a comment here, can you tell me more about this brass valve, and also please tell me the model number of the Central Pneumatic air compressor.
Also, do you have your air compressor plugged directly into a socket, or if you are using an extension cord? If you are using a cord, try plugging the compressor directly into a wall socket. What causes compressor thermal overload is the motor being overloaded overload and subsequent thermal valve popping can be caused by a motor being underpowered.
If you want to do a bit of research yourself, visit the troubleshooting section on the sitemap page, and follow the links to the compressor will not start page for more tips.
Central Pneumatic Model 40400 Air Compressor Not Building Pressure
Question
I have a model 40400 compressor that will not turn on, what should I look for?
Response
Bob, there are a bunch of things that could be causing that, and you've not provided much information to start diagnosing this.
Would you please go to the troubleshooting page and read the pages about why air compressors don't start? There are things listed there to check, and rather than retype them all, here again, please check them out.
When you've checked the issues referred to there, add a comment here telling us what you did or didn't find in the process of trying to figure out why your air compressor won't start, and we'll press on.
Central Pneumatic 40400 Air Compressor Will Not Build Pressure
Question
My 40400 will run but it won't build up any air pressure, Any ideas on this ?
Response
Lots of ideas Bruce… maybe even some of them good?
Your compressor problem is not unique, so I added some pages on this site about how to try and figure out why your air compressor runs but does not build pressure rather than retype all that info here, please check this page: Why An Air Compressor Won't Build Pressure & How To Fix A Compressor Not Building Pressure!
Central Pneumatic Oilless Pancake Air Compressor Stopped Building Pressure
Question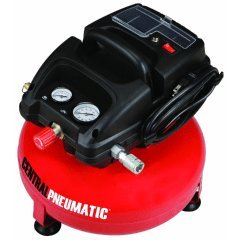 Pancake Air Compressor, Oilless 1/3 Horsepower, 3 Gallon, 100 PSI
Had a CP pancake compressor for about a year now. Worked very well with light nailing jobs. Just recently was doing a project and the compressor stopped building pressure. The motor runs and everything seems and sounds to be running regularly but there is no build up of pressure to the tank. Is there any parts or kits that I can replace to have it work again?
Response
Hi Revello…
Could be a valve issue, a gasket blowout, or a couple of other things.
See the link to the appropriate page from the troubleshooting section from the site map.
I suspect there may have been a kit. Your logical source is Harbor Freight, and you will need your model and serial number ready when you contact them.
Or, find out where they send their air compressors to be fixed under warranty, if they do, and contact those folks directly.
Also, your post is now live. Maybe another visitor can direct you to parts for your compressor by adding a comment here.
Central Pneumatic oil-lubricated Air Compressor Won't Build Air Pressure
Question
The oil-lubricated air compressor will not build air pressure past 40psi and runs continually. When I shut it off nothing leaks out.
Response
Hi there. Did you get the chance to look at the things to check on your air compressor when it runs and won't build air pressure? That information is found in the troubleshooting section, under 'compressor runs but will not build pressure.
There are typically about four things that could be the cause. Bad power supply, intake valves, pressure valves, gasket failure, or piston seals.
It could also be a partially blocked intake filter, though that is not as common.
Since I don't know what you have checked, I don't know how to advise you about where you go from here to resolve your air compressor problem.
Please post a comment letting me know what you have checked so we can figure this out together.
If you have any questions about Central Pneumatic air compressor not building pressure, please leave a comment below, with a photo if applicable, so that someone can help you!