A common problem with Atlas Copco air compressors is Atlas Copco compressor fault codes. This article will provide you with some useful information on compressor error codes, along with existing reader questions and responses about Atlas Copco compressor fault codes!
Table of Contents
Reasons Atlas Copco Compressor Shows Fault Codes
In the event of a system fault, the Atlas Copco compressor should display a fault code in the user operational display menu on the controller. If there is more than one fault code active, each will be displayed as separate items in this operational display menu; they can be viewed by pressing up or down to view.
The fault codes displayed on the Atlas Copco air compressor should be separated into unit faults (ERR/ERROR), and system alarms (SYS/WARNING).
Error Fault
When the compressor displays an error or shutdown, the conditions of the error will automatically reset once the condition has been resolved and the air compressor has restarted, working with no issues.
System Fault
When the compressor displays a system alarm warning, the conditions are automatically reset when the condition has been resolved and reset on the compressor.
It's common for the fault codes to be separated by some regarding a problem or error with the controller itself which prevents normal operation of the compressor, and system faults that occur externally from the controller and with the compressor.
The Atlas Copco compressor fault codes will likely show their errors in two different light patterns:
LED will flash slowly – this indicates an alarm warning condition where the compressor is continuing with the normal operation but user attention is required still.
LED flashes fast – this indicates a trip condition where the controller will stop the operation of the compressor until the conditions of the error are resolved.
Typically the fault codes will be labeled with unique numeric codes which can then be understood from the user's manual for the specific Atlas Copco compressor.
Additional Atlas Copco Pages
Reader Questions & Responses
Atlas Copco Compressor Fault Codes Error – Atlas Copco Air Compressor Troubleshooting
Question
I'm working with a new Atlas Copco 50 hp IVR reciprocating air compressor.
My problem is when I start the compressor after a few minutes it shows COMPRESSOR MOTOR CONVERTER TIME OUT.
I have reset but repeatedly it shows the same error.
Please let me know what is the actual problem.
Thank you in advance!
Question
250z Atlas Copco (fault) compressor motor converter time out – does anyone know what the cause is
Question
We have GA 50W VSD…Now the problem of motor converter time out on display. Please, tell me why the resin of the problem and how to solve its problem…..
Response
Dear all,
I have the same issue with my ZR250VSD. after completing maintenance, we turned on the power, started, and appeared the error "converter time out", could not reset. now waiting for OEM to come.
Response
Hi all,
* Check communication cable
* Isolate the converter from the module, and use the VSD simulation software to test whether the module or converter is at fault.
–> A PC and RS485 <-> RS232 converter box is required as well as the DFM4win cable) is required. The cable is to be connected in place of the converter cable connection. If the RS485 port is faulty ==> new module is required.
– Replace the Modbus adapter card.
---
Atlas Copco Compressor Showing JDEC Warning – Atlas Copco Compressor Fault Codes JDEC
Question
JDEC warning unAck on display what does that mean?
Response
Typically, a device is being polled but is not responding. That's about my understanding of it.
Has anyone heard from Atlas Copco on this issue?
---
Troubleshooting an Expansion Module Error on Atlas Copco compressor – Atlas Copco Air Compressor Troubleshooting
Question
What is causing an expansion module error on the compressor which I have to power reset to start the compressor back up?
Response
SIOE module in the comm box
With luck, you can just r/r it, maybe clean contacts if just re-seating doesn't do it.
Failing that, check the module for obvious problems like burnt components, bad solder joints, etc.
Good luck.
Response
Give me your email address. I will show you a video of the error.
(Saad, rather than one email address, please provide a link to the video as a comment here so that all can see it. Thank you. Moderator)
---
XAHS 273 Atlas Copco Stop Fault code –
Question
I have an air compressor (XAHS 273, Atlas Copco),
I can start the compressor without a problem and load with air normally, but the issue is when I'm trying to switch it off the engine does not stop, it displays (stop failure) even when I press emergency the engine keeps working and never stop
Note that before I start the engine, it displays an EIC warning Unack
Please help and many thanks in advance
Response
Well, there are two main ways to stop a diesel, cut off the fuel or the air. Emergency stop (at least in North America) cuts off the air intake so it can't run on environmental fumes.
So, it's getting air when it shouldn't, and probably the Unack is telling you there is some fault with the engine air control device.
Good luck.
---
XAX 300 Atlas Copco Compressor Temp Fault
Question
Hey there I have a XAX 300 Atlas Copco comp and I recently got an element temp unack fault…
The compressor has not run yet, it is not overheated and in testing, I do not have a signal/voltage going to the temp sensor under the compressor.
Removed wires and temp probe is "open" and tested the wires going to it and they have no voltage to them on either red or blue wire.
Is there something to check? Fuse?
Response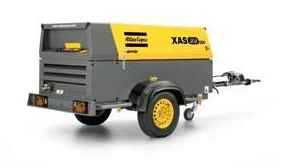 I'm going to guess that your compressor is an XAS 300 as opposed to XAX 300?
If it were a fuse, looks like the whole panel would be down.
TS is normally closed, so as a test, try shorting the wires to it. That should satisfy the controller.
If not, check the wiring.
If so, then replace TS.
Good luck.
---
XAS 375 JD6 "Internal Error Unack" Atlas Copco Compressor Fault Code
Question
Hi anyone who can help,
We have an Atlas Copco XAS 375 JD6 screw compressor here on-site in PNG.
Its displaying "internal error unack", also "sensor fail S unack".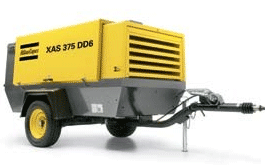 Now we all know that "unack" is UNACKNOWLEDGED. But what is the machine referring to by "internal error"?
Internal of the control panel?
It's a game of musical chairs to remove any faults on the control panel and the machine won't start the start cycle/preheat either.
Here's what has been done:
basics – fuel filters ,levels,belts etc
comp oil replaced and element cond checked (ok)
all airlines and scavenge tubes were checked for blockage
wiring going ion to the rear of the control panel checked for loose
connections
plunger/air end outlet, removed and checked for sticky/stuck and
lubed up
battery charged
powered by john deere pe4045
model number xas375 13
no wiring diagram or air schematic here either(does anyone have one or both?)
If so we would really appreciate the help people, we are up the creek no paddle.
(If you have these documents or .pdf files, they can be uploaded using the comment form at the end of this page. Moderator)
Response
Sounds like the sensor is the root.
If you can find it/them I'd check the wires at the sensor ends.
With luck, you can disconnect them in turn, and the one that doesn't present a new unack will be the faulty one.
Good luck.
---
If you have any questions regarding Atlas Copco air compressor fault codes, please leave a comment below, with a photo if applicable, so that someone can help you!